This post may contain affiliate links. Read my disclosure policy here.
Just over two weeks ago I was in LA for an amazing pop up fitness blogging event with Jamba Juice for their Live Fruitfully campaign.


This is my first of three posts, which will focus on Jamba's oatmeal, smoothies and some new fitness trends you might be seeing where you are soon.
I have been a huge fan of Jamba Juice's smoothies for ages now, but had never really checked out what else Jamba made. I was surprised to find the steel-cut oatmeal. I should tell you that while I have oatmeal at home from time to time, we are talking about the plain old cooks in a minute kind that I end up eating plain or with a small sprinkle of sugar and cinnamon on top, which tastes OK but doesn't make me want to eat it all the time.
I am not a frequent breakfast eater . . . even though I know that I should be. Eating breakfast is important as it not only increases your metabolism, but helps you maintain high energy levels during the day (which explains why I am so tired most days when I skip breakfast.)
At the Jamba event, we started our morning getting some of their organic steel-cut oatmeal, slow cooked with soymilk and topped with your choice of toppings. Choices include apple cinnamon, berry cherry pecan, blueberry & blackberry, fresh banana, and plain with brown sugar.
I chose the berry cherry pecan – which has a dried fruit topping of cranberries, cherries, and blueberries with glazed pecans and a little bit of the brown sugar crumble on top. How good does this look?!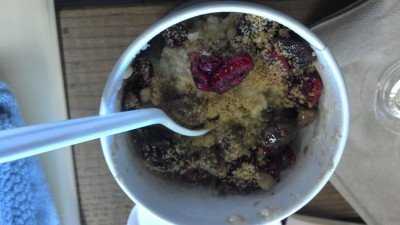 Amazing oatmeal, and very filling! I couldn't even finish it all. With Jamba's line of oatmeals ranging from just 220 calories (plain with brown sugar) to 340 (berry cherry pecan) how can you go wrong?
In addition to the Jamba Juice website, you can also follow Jamba on Facebook!
Disclosure: Jamba Juice paid for me to attend the Live Fruitfully event. No other compensation was given.
Liza is a blogger and freelance writer.  She resides in Rhode Island with her husband and 3 active boys – a five year old and identical twin four year olds.  When she isn't taking someone to sports practice or a game, she can be found on her personal blog Cira's Lyrics writing about chaos and family.  She writes for an online shopping blog Buy-Her and is a review/giveaway writer at 5 Minutes for Mom.  Liza is also in the process of relaunching The Mommy Gamer – a blog about video gaming, board games, toys and all things entertainment for kids.