This post may contain affiliate links. Read my disclosure policy here.
"It is its own religion, this love. Uncontainable, savage, and without end, it is what I feel for my child…

Mia is fifteen now, and she and I are in the clouds above Austria. The sun has not risen and she is spread across her seat and mine, asleep. I watch her sleep, as I have done nearly every night of her life. We are on our way to eastern Europe. Not to see castles or rivers or onion-domed villas. Not to see long-lost family. Not even to see each other. I am leaving her there.

Mia will be locked up. She is broken now. Thin, pink scars beribbon her thighs and stomach, her ankles are bruised by a felon's leg shackles, her wrists by handcuffs. She is medically malnourished and made up like a whore. Inside, she is dark and damaged and gone. I don't know if I'll ever see her again, my one true child. My desperate hope is that she can be repaired, even badly patched. Mostly, though, I simply hope they can keep her, that she does not escape, as she has done again and again and again and again. Each time to do worse things with worse people, criminals finally. The only thing left would be death, hers or someone else's.

I look down at her, both of us just skin and bone and thin, little breaths. What's left of me staring at what's left of her."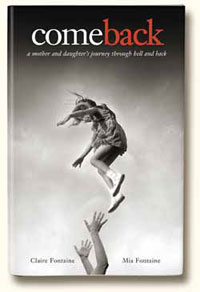 And so Claire begins their memoir – the story of desperate love as a mother moves the world to save her damaged and dying daughter. Claire and Mia tell their story with contrasting entries in their own voices, taking us through their lives and inside their souls. It is a masterfully written account of the devastation of incest and teenage drug abuse, and the self-discovery that leads to healing.
But this is not just another great story, Come Back is an intense experience that will change you forever and, if you let it, make you into a better person and a better parent.
It is simply a must read for parents of children who have been abused or who are trapped in addiction, sex or crime, but it is also for those of us who are not facing those challenges. Each one of us carries hurts and experiences from our past that cripple us as people, partners and parents. Mia and Claire's story tears through all our lies and shows us who we are and pushes us to change. It is therapy – halfway through the book I noticed myself chewing on my fingers, working through my own history as Mia and Claire slugged their way through theirs.
And, of course, you won't want to put it down. It is a gripping, brilliant and inspiring true story that beats anything Hollywood could produce. You definitely don't want to miss it.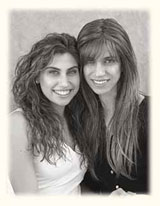 This past week I had a chance to chat with Claire and Mia Fontaine, mother and daughter, and co-authors of their memoir Come Back. Tomorrow's post will feature that interview.
In the meantime, for more information on Come Back visit their website www.claireandmia.com. You can also visit Claire at her blog Claire Du Jour – A Writer's Eye on Life.