This post may contain affiliate links. Read my disclosure policy here.
I get a kick out of asking people whether they use a Mac or PC. It often evokes an emotional response one way or the other.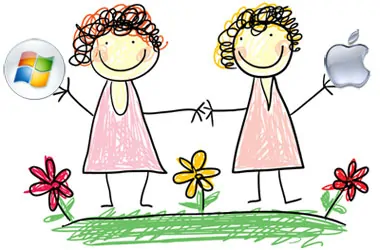 Pin It
I remember back in the old days (think early 90's) when the Mac and PC camps were very separated and nobody crossed from one to the other. I was a computer programmer, deeply immersed in the PC camp and I'd laugh at my graphic designer boyfriend who spent insane amounts of money for his Mac software and hardware. But I wasn't laughing, I was cursing when he'd work on a graphics project for me and I couldn't read his files on my machines.
I'll be honest, I never thought anybody outside the artsy graphic design crowd would ever use a Mac.
Good thing I never placed any bets.
When Apple products starting spreading outside of the graphics folks, I started to wonder. But I still never thought I'd own any myself. Then the iPhone came out. And I made my first step into the other camp. Then a couple years later, curiosity took me a step further and I bought a MacBook Pro.
But I never would have bought a MacBook if it weren't so easy to collaborate with the PC world. These two camps aren't separated by the same walls that we had in the 90's.
I honestly barely notice any issues having one MacBook within our office and remote network of PCs. Janice uses PCs 100% of the time and I divide my time between different PCs and my one MacBook Pro. We have assistants and writers using both PCs and Macs. And we ALL get along.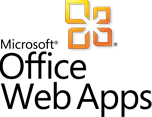 It's so easy now. And with Office Web Apps, it's even easier for us all to collaborate and work together whether we're side by side, or across the world and whether we're on PCs or Macs.
Using Windows Live and Office Web Apps, we can share files on SkyDrive, collaborate in real-time on proposals in Word, manage budgets in Excel, prepare presentations in Powerpoint and our newest favorite – research projects and take notes about everything in OneNote.
I'd love to tell the Susan from 1993 — as she programmed her Windows computer, laughed at her Mac-using, artist boyfriend and saved files to a floppy disk — that one day we'd really all get along and we'd send Gigabytes of data through the Cloud.
This post is part of a promotional campaign with Microsoft. All opinions are our own.
Written by Susan Carraretto, co-founder of 5 Minutes for Mom
I answer to the name Mommy Blogger, but prefer the term Mom Blogger.
Talk with me: @5minutesformom and Facebook.com/5minutesformom
Pin with me at http://pinterest.com/5minutesformom/