This post may contain affiliate links. Read my disclosure policy here.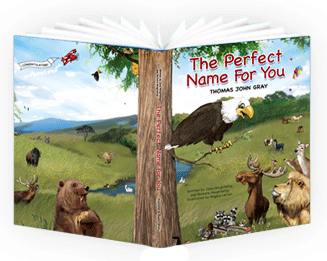 Barbara Houghteling is co-partner of Birthday Keepsakes, an online baby keepsakes website. When she came up with the idea for a personalized storybook, her daughter Jana, then a senior in high school, read her mom's verses and decided she could do better. The Houghtelings worked with an artist to create the illustrations that accompany the rhymes, and recently The Perfect Name For You was published.
I received a copy of The Perfect Name For You for my 5 year old son, assuming he'd like it, but I wasn't expecting him to completely fall in love with the book. Like most kids his age he just loves seeing his name on just about anything, and to have it printed on his own picture book is the best thing that's ever happened to him.
Having read a multitude of alphabet books, many of them using animals for each letter, it's always refreshing to see a new twist on the genre. To celebrate the child's birth, each animal brings something for each letter in their name – the moose brings an A for antlers, the lion brings an M for mane, the ant brings a P for picnic. There are multiple animals for each letter, so even though my son's full name has 5 As in it — first, middle and last are all used — there were no repeats. Adding to the fun is a ladybug that can be found in each picture, and at the end is each letter of the alphabet brought by a different animal. My son loves to go through that list and point out the ones included in his book.
The Perfect Name For You is a wonderful gift for a new baby or preschool-aged child that will be cherished for years.
Birthday Keepsakes is offering a free personalized storybook to 1 winner, US or Canada only. Please leave a comment below and the winner will be announced on in this weekly book giveaway column on Monday February 6.

Nancy is happy her son loves his name as much as she does. She writes about her 2 boys, books and life in Colorado at Life With My Boys and Books.