This post may contain affiliate links. Read my disclosure policy here.
Okay ladies — today we are going to get a bit personal and talk about breasts. Are you blessed in that department? If so, you might notice some discomfort when you sleep at night. Well, I am here to say that thanks to Bosom Buddy, your breasts will be thanking you!
So what is the Bosom Buddy? It's a small pillow that you can put in your tank top or sports bra that gives some support to your breasts while you sleep.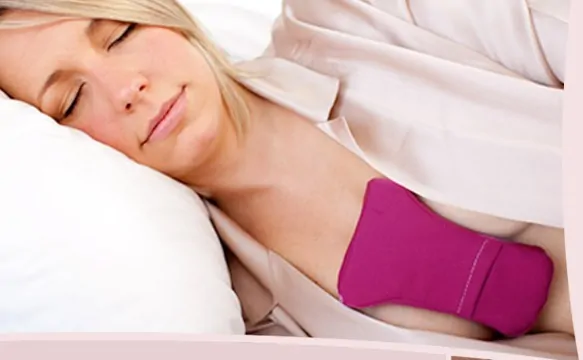 From their website:
The bosombuddy breast pillow is very portable and easy to use. Its compact, contoured design consists of a high-quality memory foam core with a soft, removable cover made of washable Polartec® wicking fabric that is pleasant against the body, night-sweat friendly and slip resistant. Place the pillow between breasts for cool comfort, and even use a body pillow for added overall comfort.
I'm not even going to lie to you, I was completely skeptical about this product because they say its for women who fall into the following categories:
• Women who have a C-cup or larger
• Women who are pregnant or breastfeeding
• Women who have had breast reconstruction or augmentation
• Women who have had or are waiting for a breast reduction
• Women who are recovering from cardio-thoracic surgery
• Women who are developing wrinkling or creasing of the upper chest
While I am a C-cup I don't fit into any of the other categories. I tried it every night for a week and I loved it. It's super comfortable and really helped to relieve some soreness that I was experiencing due to changing my birth control pills. I was having a hard time getting my body to regulate to it. I was amazed at how much better the Bosom Buddy made me feel.
Reading further about the product made me like it even more. Bosom buddy is environmentally friendly, made from recycled materials. They are also trying to help prevent breast cancer. A percentage from the purchase of every Bosom Buddy goes to support breast care for uninsured women. Having just lost an old friend (who was entirely too young) to Stage 4 breast cancer this week, that really hit close to home.
The woman who created the Bosom Buddy – Rebecca Mann Kass – was the youngest bone marrow donor ever at the time for her sister who had cancer. Her story is quite inspiring and from it she created an amazing product.
The Bosom Buddy retails for $39.95, but is currently on sale for the New Year at $32.95 and can be purchased directly from their website. You can also follow up with them on Facebook.

Disclosure: I was sent a Bosom Buddy to review. All opinions listed here are my own.
Liza is a blogger and freelance writer.  She resides in Rhode Island with her husband and 3 active boys – a five year old and identical twin four year olds.  When she isn't taking someone to sports practice or a game, she can be found on her personal blog Cira's Lyrics writing about chaos and family.  She writes for an online shopping blog Buy-Her and is a review/giveaway writer at 5 Minutes for Mom.