This post may contain affiliate links. Read my disclosure policy here.
Before I got my laptop and all I had was a desktop computer, I was quite picky about the kind of mouse that I had. I started out with just the kind that you could click on the left or the right. Then I was introduced to the mouse that had the wheel in the middle which made scrolling a page so much easier. At that point, I thought I had reached the pinnacle of computer mouses.
Then I got my laptop which had the touch mouse and I never wanted to go back to the old way of scrolling again. That was until we were recently contacted by Microsoft to do a review and giveaway of their newest innovation — The Touch Mouse.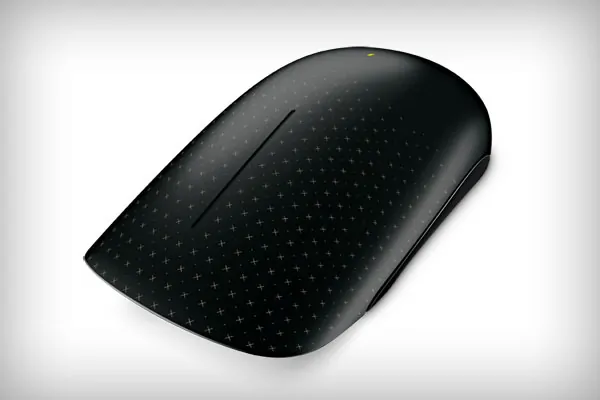 It's sleek
It's stylish
It does so much more than any other mouse on the market!
At first glance, you probably would be like me and think it was just a left click/right click type mouse. It's so much more! In fact, the Touch Mouse is a combination of all three types I described above.
About the Touch Mouse
Touch Mouse features a large touch-sensitive surface that responds to one, two, and three-fingered movements that are optimized for window management: snapping, moving, minimizing and maximizing, going backwards and forwards on your webpage, swinging between tasks, and so on. Its contoured shape fits comfortably in your hand, and with built-in BlueTrack Technology you can to use it virtually anywhere. Touch Mouse is easy to learn and fun to use, but you can still point and click as you would with your old mouse while getting comfortable with the Touch gestures.
The Touch Mouse makes your Windows 7 experience so much better! it sells for $79.95 and can be purchased at any office supply store or online at Microsoft.
Key Features
There are some key features to the Touch Mouse that make it different and unique. You can choose to use one, two, or three fingers when scrolling and clicking.
One Finger: Scroll, flick, or pan any direction for quick navigation. Sweep your thumb to go forward or back.
Two Fingers: Snap to see your windows side by side, or maximize and minimize.
Three Fingers: Show all open windows or reveal your desktop.

Exclusively for Windows 7: Touch Mouse takes advantage of the enhanced features of Windows 7 to make you more productive.
Watch this video to learn more about the Touch Mouse
Enter to Win
2 readers will be chosen to get their very own Touch Mouse! To enter the giveaway, leave a comment here letting us know what you think your favorite part of this mouse will be.
The giveaway will end on January 26th and a winner will be chosen by random.org and announced in our weekly Around the Blogosphere post.