This post may contain affiliate links. Read my disclosure policy here.
There is nothing "new" about New Year's Resolutions. Every year, people make and break the same promises. But, can the Internet help you meet your New Year goals this year?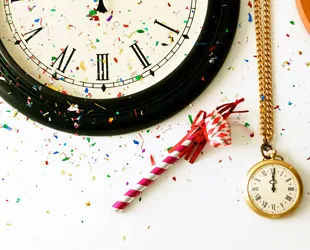 It is no mystery why the top New Year's Resolutions are the same each year – these plans are hard to keep. Do you find yourself making the same promises to yourself over and over? Well, no worries — because the Internet is here to help!
I joined Lizzie Bermudez on 7 live for a segment called New Year's resolutions: Get back on track! Watch it below…
In the 7 live segment, I shared the following five most common New Year's Resolutions and how the Internet will help you keep them.
1. Lose Weight and Get Fit
Losing weight and getting fit are probably the most common and hardest resolutions to keep. But there are websites to help.
One of the most important keys to succeeding in weight loss and fitness is support.
Online, women are finding incredible community and encouragement as they tackle losing weight and embarking on new fitness routines together.
My two favorite sites for losing weight and getting fit are Mamavation.com and Weight Watchers Online.
Mamavation.com is a free site founded by Leah Segedie, a mom who lost 170lbs and is committed to helping "digital moms" learn and sustain healthy living practices to combat obesity in their lives and in their families' lives. The key to Mamavation is community and support, as women keep each other accountable, motivated, and encouraged.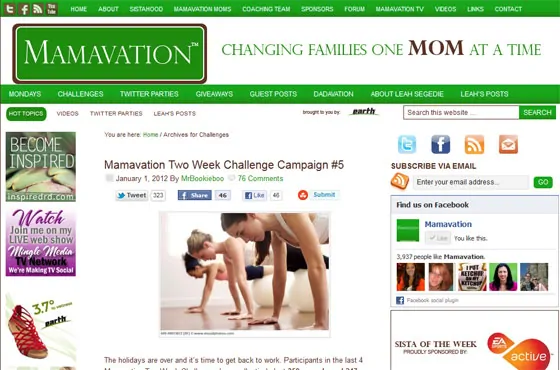 WeightWatchers.com is the power of Weight Watchers right from your laptop!
I especially love the incredible tools and resources available on WeightWatchers.com. While becoming a member and accessing the program isn't free, if you want help losing weight, Weight Watchers Online could be the answer for you.
The Weight Watchers Mobile offerings – included in your online membership – are fantastic – they offer apps for your smart phone to keep track of food, activity and weight, as well as get meal and recipe ideas, etc., a barcode scanner to get accurate PointsPlus values while you shop, a Kitchen Companion App for iPad, and Calculator Apps so you can calculate PointsPlus values wherever you are – – at the grocery store or a restaurant.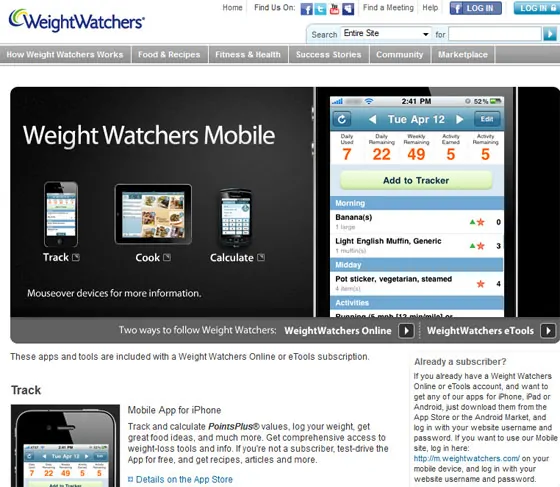 2. Eat Healthier and Diet
The Internet is not only your resource for every kind of recipe you can imagine, but it is the source for food inspiration. Food blogging and recipe sharing is booming online, with hundreds of thousands of sites and communities dedicated to all things edible.
But it doesn't have to be about tempting desserts, there are incredible recipes and sites that will make eating healthier easier and yes, even delicious.
There are countless, incredible food blogs – you can find blogs for all different kinds of diets, including traditional foods, the Paleo diet, and gluten free diets. A few stand outs are Nourished Kitchen, Everday Paleo, and Elana's Pantry, .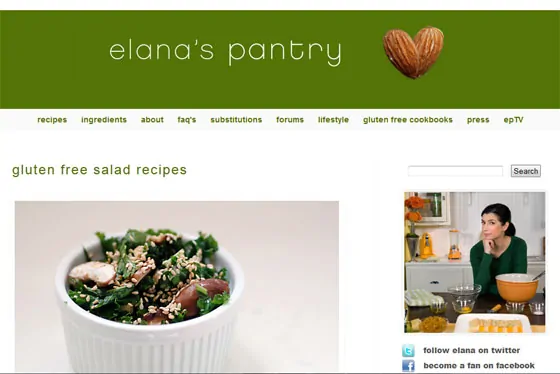 What is important about all of these sites is the author's focus on making meals that the entire family will eat.
Elana says she was unwilling to cook two separate meals each night for her family and needed to make gluten-free food that tasted like regular food. Now, she has created such delicious recipes even Ree Drummond, the famous blogger from The Pioneer Woman.com, says she isn't gluten-free but she loves Elena's delicious recipes.
3. Get Organized
The busier life gets the harder it is to keep it organized. But experts and free resources are waiting for you. From to do list templates to professional organizer's expert tips, organizing blogs and websites will get you inspired and in line.
When it comes to organizational and tip blogs, a few of my favorites are Tip Junkie, How Does She, and the ultimate and awe-inspiring Simple Mom.
"Simple Mom is a productivity blog for home managers" – basically a site designed to help us moms live simpler lives.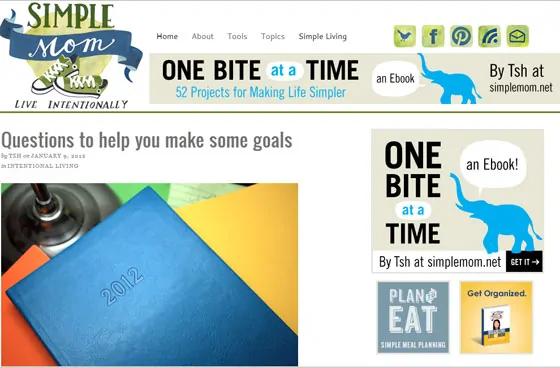 I love that while the world is telling us to speed up and consume more, Simple Mom is telling us to slow down and leave behind the clutter and chaos. In addition to Simple Mom, founder Tsh Oxenreider has a network of Simple Living Blogs — where you can get organized about cooking for your family, homeschooling, living organic, and more.
4. Get Out of Debt and Save Money
Whether you want to learn to coupon and find the best deals, or you want to discover debt-reducing and money saving strategies that work, the Internet is the place to go.
There are thousands of great coupon and deals sites that not only bring you the best coupons and deals, but help you learn HOW to coupon and save money, such as Deal Seeking Mom.net, In Good Cents.com, and our own 5 Minutes for Deals.com.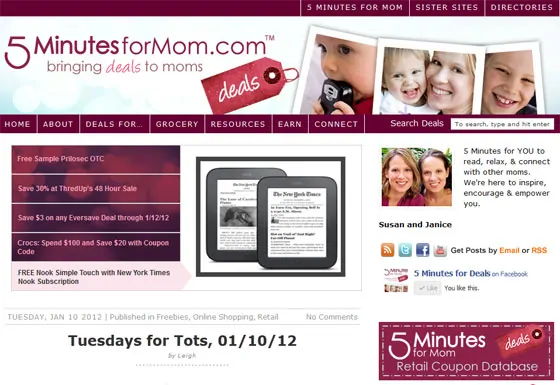 If you are like me and the topic of budgeting makes you instantly bored or overwhelmed, check out Budgets are Sexy. Founder J. Money makes saving money fun and hip and makes fixing your financial situation around doable.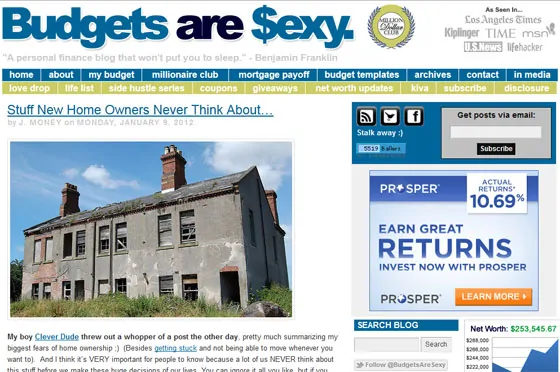 5. Learn Something New
Life shouldn't be all about the serious stuff – and neither should our resolutions. One of the most common New Year's Resolutions is to learn something new and what better place to learn a new skill or hobby than the Internet.
Want to learn to knit? Are you an aspiring crafter? What about a writer or a blogger? One of the fun new hobbies thousands of people are learning online is photography.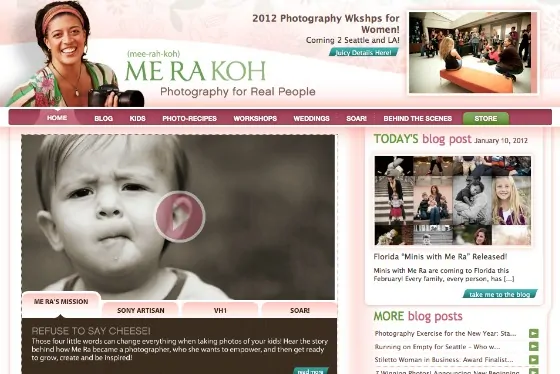 Video tutorials, Flickr groups, Forums, Photography communities, blogs and websites – there is so much information online that you can find the information, the inspiration and the community to have you learning and mastering that something new.
For some DIY and crafting fun, there are tons of fun and sweet sites such as Tatortots and Jello.
If you want to become a better photographer and learn how to capture your children's lives before they grow up, check out MeraKoh, MomTog.com, or Texas Chicks Blogs and Pics.com.
But, most of ALL, you must head over to Pinterest.com.
Pinterest is THE place to find almost everything you want online – in the most eye catching, relaxing and inspiring way possible.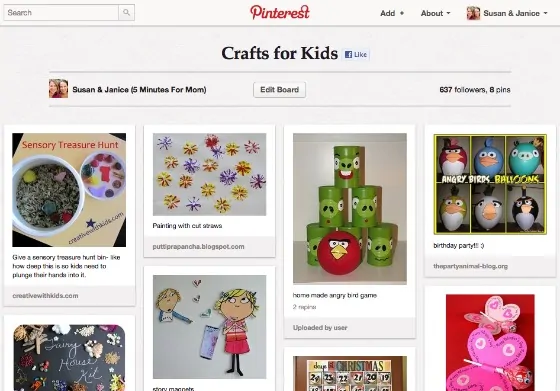 You can create an account and start pinning all your favorite finds online – all the recipes you want to make, crafts you want to try, posts you want to read. You can follow your friends and other fabulous pinners and discover all their finds. And you can search on any topic and find more posts than you could ever read.
In fact, Pinterest can help you with everything from finding exercises for your abs to ideas for your kids' lunches. Trust me – Pinterest is pretty much the greatest thing since the Internet.
If you're new to Pinterest, start here.
Now, Go!
So whether you've only stumbled on your resolutions a few times so far or you were ready to give up entirely, get online and give yourself a restart. This can be the year, you really move forward on those resolutions that everyone else seems to toss aside before February.
If you found this post helpful, we would love it if you gave it a Stumble, Tweet, Pin, or Facebook Like. Thanks so much! We really appreciate your support of 5 Minutes for Mom.
Written by Janice Croze, co-founder of 5 Minutes for Mom.
We want to get to know you better — Tweet with us: @5minutesformom, find us on Facebook: Facebook.com/5minutesformom, or join our newsletter list.