This post may contain affiliate links. Read my disclosure policy here.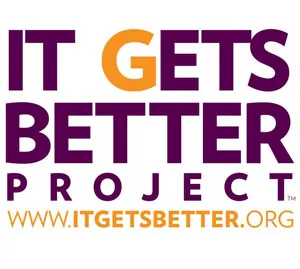 I have never been so proud to support Disney as I am after watching Disney's video contribution to the It Gets Better Project and The Trevor Project.
As a former youth worker, my heart is still passionately connected to helping young people survive the difficult teen years. And, as a parent, I am SO grateful that the world is becoming a more accepting, open place where bullying is discussed and no longer accepted.
Not one child or adult should be bullied or unaccepted for who they are. Gay youth need to know that there is nothing "wrong" with them and they deserve all the love and respect that every person on this earth deserves.
THANK YOU DISNEY for adding your powerful, influential voice to the It Gets Better Project.
I hope you can share this video with your children — whether they are LGBT youth or not.
Hopefully, you can watch this video, and other videos from the It Gets Better Project, together with your kids. Try to provide your children with a safe, non-judgmental place to talk about bullying. How do they feel about bullying? Has anyone every bullied them? Have they ever bullied anyone?
(If a person is bullying others, they are hurting themselves and need love, help, and support too. Please don't condemn your child, but allow them to feel your unconditional love. Then you can work with them to heal and to see how their actions are hurting their victim. Both bullies and victims need love!)
Most of all, make sure your kids know that, no matter what, whether they are the victim or the bully, life gets better!
Get Help Now From The Trevor Project

If you are a young person, considering hurting yourself or need help, call the Trevor Project now:
866-4-U-TREVOR (866-488-7386) and check out the TrevorProject.org.

The Trevor Project, a partner of It Gets Better, is a great place for LGBT youth support. The Trevor Project's website has tons of resources that allow you to learn from the experiences of others and connect with other LGBT kids like you — and a staff to help you get the support you need.

If you are in Canada, you can call the Kids Help Phone at 1-800-668-6868, for anonymous and free support and counseling services, 24 hours a day, seven days a week. To ask a question online, visit kidshelpphone.ca
Remember, if you're considering suicide, call 866-4-U-TREVOR (866-488-7386) right now. There are people standing by ready to talk to you.
If you found this post helpful, we would love it if you share it on StumbleUpon, Twitter, or Facebook. You can use those handy share buttons at the bottom of the post. Thanks so much! We really appreciate your support of 5 Minutes for Mom.
Written by Janice Croze, co-founder of 5 Minutes for Mom.
We want to get to know you better — Tweet with us: @5minutesformom, find us on Facebook: Facebook.com/5minutesformom, or join our newsletter list.