This post may contain affiliate links. Read my disclosure policy here.
I am very sensitive to smells. Just ask my husband. I smell things long before he ever notices anything. Sometimes that's a good quality to have – I have a deep appreciation for good smells. Other times….my heightened sense of smell can be quite annoying.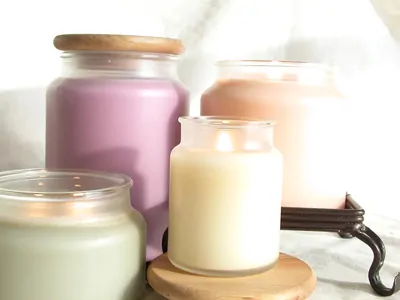 Because I really dislike stinkiness and really LOVE sweet smells, I have become a scented candle addict. I've got candles all over, and often burn them to lift my mood.
I've tried many brands, from the expensive to the cheaper store brands. I can say with no hesitation that Pure Integrity Soy Candles are the best smelling candles I have ever experienced.
I received a variety of candles and soy melts (to use with my own warmer) from Pure Integrity, and right off the bat, I was amazed at how much I loved the scents, particularly since I chose the scents online. My first praise for Pure Integrity is that their online scent descriptions led me to the perfect scents for me.
My favorite scent turned out to be Autumn splendor. Here's Pure Integrity's description:
Autumn Splendor – A classic fall scent. This combination of clove, peppermint and cinnamon is wonderfully warm and inviting. Irresistibly beautiful! Scent Strength ~ Moderate  ~ Fill large areas.
I've currently got an Autumn Splendor tealight candle sitting on my desk, and I enjoy the wonderful scent without even having to burn it.
I also love the Cranberry Spice and Pumpkin Spice (can you tell I'm drawn to the spice scents??).
Not only are Pure Integrity's scents incredible (they have a huge variety, too!) but their unique soy formula produces healthier, natural candles that burn without harmful petro soot. Read Stacey's recent review of Pure Integrity.
Pure Integrity Soy Candles are available in different sizes and styles:
26oz candle – double wick and burns approx. 110-120 hours.
16oz candle  – double wick and burns approx. 75-85 hours.
10oz candle  – double wick & burns approx. 40-45 hours.
5oz candle  – single wick & burns approx. 25-30 hours.
Tealight cups come in clear container in quantity of 12 & burn approx. 6-7 hours each.
Soy Melts – 3.5 oz with 6 cubes (Soy melts can be used in any tealight or melt warmer. Two or Three cubes is sufficient to burn at a time.)
Current specials:
$5.00 Flat Rate Shipping on all orders over $59.00 & Free Shipping on all orders over $100.00 in contiguous U.S. plus enjoy 20% OFF Sugared Spruce & Hazelnut!
Act Quickly – Shipping Guaranteed by Christmas:
All orders placed by Thursday, Dec 15th by noon EST will be received by Christmas in all 48 contiguous United States via UPS Ground (this includes current shipping specials).
Enter to win Pure Integrity Soy Candles
To enter to win a variety of Pure Integrity Soy Candles in scents of your choice (with samples of soy melts, tealights, and 10 and 16 oz candles), leave a comment here telling us which of Pure Integrity's scents you would most like to try.
This giveaway will end on December 28, 2011 at midnight ET and a winner will be chosen at random and announced on Sunday in the weekly Around The Blogosphere. Please see our site's terms and conditions for more information.
Disclosure: I received a variety of Pure Integrity candles to review, but the thoughts and opinions about the product are my own.
Written by 5 Minutes for Mom managing editor, Lolli. You can find me blogging at Better in Bulk and tweeting at @1momof5.