This post may contain affiliate links. Read my disclosure policy here.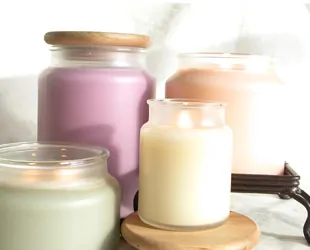 During the holidays, more than any other time of year, I like my home to smell warm and inviting. In wanting to create an atmosphere of comfort, I tend to buy and burn more candles, but I find myself quickly frustrated by the ultimate lack of fragrance in most candles I buy.
The creators of Pure Integrity Soy Candles experienced this same frustration, and in doing their research, discovered that standard paraffin wax candles on the market are not only a byproduct of oil refining, but paraffin wax typically absorbs lower amounts of fragrance and creates a greater amount of soot when burned. Soy candles, by contrast, are made from a natural source, burn slower and longer, and emit little to no soot when burned.
This inspired Pure Integrity Soy Candles to develop their unique products with an advanced fragrance technology that not only produces candles with a strong scent, but also with cleaner burning properties.

The advanced fragrance technology of Pure Integrity Soy Candles includes hand-pouring 50% more fragrance than standard candles in a 7-layer pouring process. This is all done at lower temperatures to reduce fragrance evaporation, and results in a candle with a strong scent throughout the candle, from top to bottom.
There are also no phalate chemicals used in making Pure Integrity Soy Candles, and each candle includes 2 100% cotton wicks for a clean, even burn for the life of the candle.
Pure Integrity Soy Candles come in a variety of fragrances, some particularly festive for the holidays, like Victorian Christmas, Sugared Spruce, and Pumpkin Pie. All candle sizes are given an approximate burn time, and all fragrances are rated on a "Scent Strength Scale," from "Light" all the way to "Wow."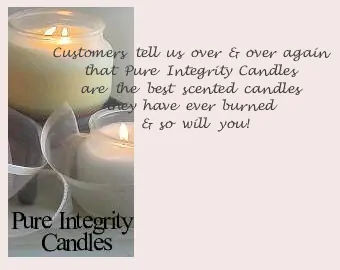 The goal of Pure Integrity Soy Candles is to serve their customers with "integrity, diligence, and honesty," and Customer Service is a top priority. They guarantee a strongly-scented, clean, even-burning candle, and if a customer is not satisfied, the company will respond as best they can to resolve the matter. They have phone and contact information on their site and remain open and available to customer feedback.
Want to learn more about Pure Integrity?
Later this month, Lolli, our managing editor is going to share her personal experience with Pure Integrity Candles and we are going to have a giveaway as well! In the meantime, you can check out Pure Integrity and their wonderful line of Soy candles by visiting the site. While you are there, be sure and sign up for their newsletter. You can get free soy candles when they send out promotions about specials and deals they have going on!
This post is written by Stacey Nerdin. Stacey is a busy work-at-home mom of 5 currently living in the Houston metro area. She's been blogging since 2005 and writes about anything at everything at her blog Tree, Root, and Twig. Stacey believes that in life and online, everything is connected.
This is part of a promotional campaign with Pure Integrity Soy Candles.