This post may contain affiliate links. Read my disclosure policy here.
Here's what you need to know about this movie. This isn't necessarily a kid movie. I remember seeing a trailer months and months ago and was immediately interested. What wasn't to like? It starred Matt Damon and Scarlett Johansson. Directed by Cameron Crowe — THE Cameron Crowe, director of one of my very favorite movies of all time (Yes, he had me at hello). I didn't think about it as being a kids' movie, but I was interested in seeing it for myself.
The other bloggers on my junket were surprised at how moving it was, and I didn't know where they had gotten the idea that it would be a funny animal film. Yes, it's PG, but can't adults watch PG movies?
But then I saw the preview that is running on TV now. I think that every single funny animal moment in the entire 2-hour movie is in that 90 second clip.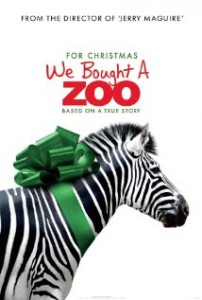 I honestly think that a kid under 10 would be bored. When I was in middle school, I went and saw all sorts of dramatic and emotional movies with my dad, and I loved them. If you have that kind of kid, take him or her. I think that I'll take Amanda, my 13-year-old daughter, because the plotline that really resonated with me was the teen/parent angle. It really resonated with me, and I'd sort of like to see how it affects her.
I loved this movie. I laughed. I cried. I pondered.
So should you see it? Yes.
Should you take your kids, expecting a light-hearted family film? No. It is PG and is wonderfully free of sexual content and innuendo, but it is a plot-driven movie. There are also a handful of swear words (and 2 of them are uttered by children).
Be sure to watch that clip up there to see a great representation of what it's all about.
We Bought a Zoo opens December 23. That's still a few weeks away, but I want you to set expectations now, and go ahead and make a date with your teens or tweens, with your sister, your husband, or just go alone.
Did you know that We Bought a Zoo is based on a true story? Find out more about the book in my Books on Screen column at 5 Minutes for Books today. I'm even giving away a copy of the book over there.
Stay tuned the week of the movie's release for insider information from my interview with the screenwriter Aline Brosh McKenna (who wrote 27 Dresses and adapted The Devil Wears Prada).
**Disclosure: I attended a press junket sponsored by Twentieth Century Fox, but my very positive thoughts are all my own.
Original post by Jennifer Donovan