This post may contain affiliate links. Read my disclosure policy here.
It's not a secret that getting kids to eat their vegetables isn't easy. We offer our babies veggies first, because they are predisposed to sweet, and even the vegetable purees that they tend to enjoy are sweet vegetables like carrots, sweet potatoes and corn. But the healthiest diet includes foods across the color spectrum, and getting kids to eat those green vegetables isn't always easy. Heck — it's hard to get many adults to move beyond potatoes!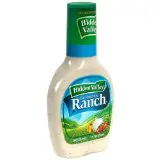 A new study shows that up to 70% of kids are bitter-sensitive, which means that bitter foods such as broccoli and cucumber really do have an unpleasant taste for them. But when offered dressing with their veggies — specifically Hidden Valley Ranch dressing — they ate 80% more vegetables. Also, using the Light version had exactly the same results (I have to say that I've been very impressed with Hidden Valley Ranch Light. There's no difference in taste at all).
In the study(1), 152 predominantly Hispanic children (87.5 percent) aged 3-5 years old and recruited from eight preschool classrooms were served an afternoon snack of raw broccoli twice a week for seven weeks. For bitter-sensitive kids, the combination of a familiar dip alongside repeatedly offering raw broccoli resulted in children eating more of that vegetable. In fact, bitter-sensitive children ate 80 percent more broccoli with Hidden Valley® salad dressings than when served the vegetable plain. After seven weeks, the number of children who said broccoli tasted "yummy" also increased by 18 percent.
I know it works for me! My kids don't hate vegetables, and eating them raw is definitely their preferred way to eat them. If I'm doing a stir-fry for dinner, I try to leave some raw that I offer to the kids, in addition to the cooked ones. My 7-year-old son grabs them off the cutting board as I'm preparing dinner. He ends up eating at least a serving of onions, peppers, and carrots before dinner is even served!
Salads are also an easy way to present raw veggies, and we eat a lot of those as well.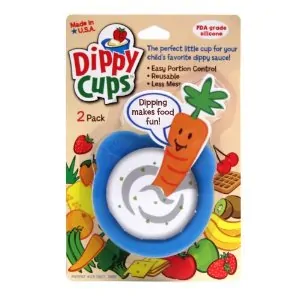 Last spring I was sent a product to test out called DippyCups, which my family has enjoyed, and I love them even more because they are a mompreneur success story!
These DippyCups are a cool way to exercise portion control. You can offer a 1 ounce serving a dip in a fun colorful bowl. They are soft, reusable silicone. I love that feature, because I can turn them inside out to get all the dip out of the bottom edge. They are machine-washable, and mine have held up quite well over months of use.
It makes having a little veggie snack more fun to pair it with these cute dip cups.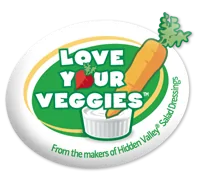 I am so proud to be on the Parent Panel for the Hidden Valley Ranch Love Your Veggies group for a second year as a paid spokesperson. It's always been important to me to feed my family well, but honestly convenience often wins out, and sometimes I get tired of trying. But being inspired by great tips from the other panelists and information like this helps me persevere.
Do you have any tried-and-true tips that you can share about getting your kids to eat vegetables? If it worked for you, it might work for one of us.