This post may contain affiliate links. Read my disclosure policy here.
I was a Black Friday virgin. I'd heard the crazy stories and I wanted to see for myself what all the fuss was about.
So last night at about 7 pm, I ventured South across the border to visit the Black Friday store sales at Bellis Fair in Bellingham, Washington State.
I first drove by Target to check if people were already lining up… and yes, at 8 pm about a hundred brave shoppers sat in camping chairs clad in warm winter wear.
I decided against spending the next four hours standing in the freezing cold and drove off to see what else I could find.
Walmart
Beginners luck got me one of the last parking spots at Walmart and I wandered in at about 8:30 pm wondering how their sale was going to work.
I discovered Walmart was testing a new sale strategy this year. The store had been open all day, but they'd filled the centers of the main aisles with cling-wrapped pallets of toys, videos, TVs and all sorts of "doorbuster" sale items.
Shoppers crammed into the aisles trying to get close to their most coveted items and hold their positions until the cling-wrap was pulled at "go-time".
The sale times were set at various intervals. Toys were to be released at 10pm, followed by electronics at midnight and, apparently, guns(!) at 8am the next day.
The parking lot was full just after 8:30 pm. Staff locked the doors at 9:00 pm and the long lines started to form. The store ran out of shopping carts and baskets and the crowds pushed towards the center aisles like teenagers at a rock concert.
Then, with barely 10 minutes to go, buyers could not wait any longer and some just reached in to grab whatever they could, despite the protests of staff and other shoppers. At 10 pm once the shoppers grabbed whatever was within their reach, the store became gridlocked with shopping carts.
Personally, I was having fun observing the chaos and grabbing some great bargains for my girls and Janice's kids too. Since I didn't plan on getting one of the hot deals on laptops, TVs, or other expensive items, I didn't feel any stress.
However, since I'd hurt my back a couple weeks ago, all that standing in line sure wasn't a good idea… especially when I couldn't resist a lifting a huge ottoman storage chest ($29) into my cart.
A Two Hour Line
So, what do you do once you have everything you need? You look for the end of the queue for the cashiers. Again, more chaos as lines were coming from all directions. I spent over 2 hours waiting in line to pay!
On the whole, Walmart was a little scary. I don't know how many people were packed in there, but I hate to think what would have happened if a fire alarm went off or a riot started. It definitely wasn't safe and it scared me to see so many babies and children in the intense crowds.
So, I pulled away from Walmart at 11:50pm and, with my bad back and great purchases, you'd think it was time to head North.
But, no… the fun was just getting started at Target and I zipped over in time for their midnight opening.
Target
Once I got one of the few remaining parking spots I headed to the BACK of a very, very long line.
Wow! I couldn't believe how far the line went as I walked past Target, alongside Sears, around the corner, around another corner, then along the back of Sears. It was crazy.
Again I felt like I was twenty years younger at a rock concert.
While in line I chatted with two ladies who had also been at Walmart. But one of them had actually been trampled in the rush. She had been at the front of the crowd for some $3 items, and once the chaos started at countdown to 10 pm, she was pushed to the floor and people just walked on top of over, stepping all over her.
So, feeling a little hesitant, I continued walking in this line of thousands towards the doors. But, to my surprise, Target seemed to have worked out how to make Black Friday enjoyable for their shoppers.
Unlike the chaos and obvious danger shown at Walmart, Target ushered shoppers through the front door in batches. They also put the bargains on the ends of aisles amongst the normal items so that shoppers who got the bargains also put normal priced goods in their carts.
And, their staff was everywhere, restocking shelves, telling people where things were, cleaning up, etc.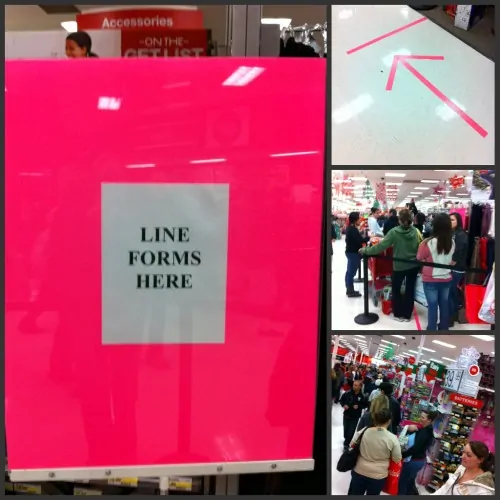 Even the queue for the cashiers was organized with it snaking up and down aisles to keep it out of the way of the other shoppers. But, it still ran the full circle of the store so, again, it took around two hours to get through.
The Bottom Line
While I definitely got better deals at Walmart, Target was the safer and more reasonable shopping experience.
But, to be honest, I won't be in the crowds next year. Once was enough. This year I really needed to get some bargains and I'm glad I went, but I'll be online only next year. Since there are so many great deals online, I don't think it's really necessary to go through the chaos of shopping in a physical store at midnight on Black Friday.
I spent more than seven hours in the two stores, and I'm basically now done Christmas shopping. The rest I will order the smart way… through our good friend the Internet!
Not Everyone Stayed Safe During Black Friday Sales…
Was mine an unusual experience at Walmart? What happened at other stores? I was shocked to read this BBC news article. Here are some quotes from the article…
"Nelson Sepulveda, a New York building superintendent, was the first in line at a Manhattan Best Buy store having queued for 28 hours before it opened."
…

"At a Walmart store in Los Angeles, "They [staff] were opening a package to try to get some Xboxes from a crate and this lady pepper-sprayed a whole bunch of people in order to gain an advantage over the Xboxes," a local police sergeant said."
…

"A man is in a stable but critical condition in hospital after being shot in the early hours as he left a Walmart with a group of people in San Leandro, California, when they resisted two armed robbers who demanded their purchases."
…

"Security workers reportedly used pepper spray on shoppers who began grabbing at goods before they were unloaded from pallets at a Walmart in Kinston, North Carolina."
…

"Several Occupy activists demonstrated outside New York's flagship Macy's, but they could not put off more than 9,000 people who had queued for the store's midnight opening."
…

"A man was reportedly detained for resisting arrest after a fight at the jewelry counter in the early hours at a Walmart in Kissimmee, Florida."
…

"A woman was shot in the foot by a robber as she loaded her purchases into her car in Myrtle Beach, South Carolina; the gunman fled as one of the victim's companions brandished a revolver and fired warning shots."
What About You?
So, did you hit the Black Friday sales? What bargains did you get and what experiences did you have?