This post may contain affiliate links. Read my disclosure policy here.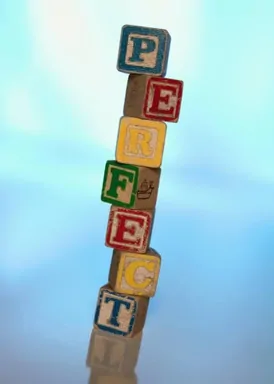 I am a perfectionist, if you can even call it that.
Because, as I imagine most perfectionists would understand, I have never achieved perfection. I think the true sign of a "perfectionist" is the never ending discontent with ourselves and our work.
A "perfectionist" is most profoundly aware of her imperfection.
I analyze every part of my body, my work, my personality, my mind, etc., but I am never able to check a box that says, "Yes, this one I can stop working on. It is done."
The only end I can ever achieve is, "No, it is not perfect but it will have to do." Sometimes I can accept that answer and move forward. Other times I am trapped by it, trying to attain an impossible goal.
I joked around on Facebook the other night:
"I am a perfectionist, I admit it. But sometimes, it is nice to know that I work my a** off to make sure something is done right. (Other times, it is just a pain in that a**!)"
I am grateful that I work hard and push to do my best. But, as I said, it is also a pain. It makes me less prolific as a blogger because I edit and tweak for hours.
Susan, my twin sister and co-founder here at 5 Minutes for Mom, calls herself a "recovering perfectionist." She refuses to allow those tendencies to control her and is far less obsessive than I am.
We were raised to strive for A+ outcomes by our wonderful – but extremely perfectionist – mother.
As we've grown older, Susan has managed to loosen some of these self-imposed shackles. She's not in the clear of course… she still also takes way to long fiddling with posts and struggling with the all-or-nothing thinking that comes along with a perfectionist personality. But she's making progress and I'm also trying to overcome perfectionism.
Tell Me: What about you? Do you struggle with perfectionism? What has helped you to overcome perfectionism?
Written by Janice Croze, co-founder of 5 Minutes for Mom.
Wanna chat? Find me at: @5minutesformom, @janicecroze and Facebook.com/5minutesformom.