This post may contain affiliate links. Read my disclosure policy here.
Halloween isn't my favorite holiday — to generously use the term, "holiday."
As a Christian, I always feel a little guilty celebrating Halloween traditions. (I actually even try to avoid using the word "celebrate." I merely participate. LOL)
But when I was a kid, my Christian parents allowed us to participate – we decorated, carved pumpkins, went trick or treating and had firework displays in our backyard. My mom hand-made our costumes – and even though she said she always felt a bit guilty about it – she even made a witch costume that made its way through the hand-me-down trail of us three girls.
A number of families in our Christian private school didn't celebrate Halloween. Confused by what harm there could possibly be in playing dress up and getting free candy, I felt terrible for my friends who were denied Halloween.
Now, as a parent myself, although I struggle with the decision, we do play along with the Halloween traditions. For the sake of letting our kids have some innocent fun, we trick or treat, participate in school costume parties, and hand out candy.
Perhaps we shouldn't. Of course, I cringe at the thought of any dark roots to the festivities.
But it is a great excuse to dress up our little ones in cozy, fuzzy costumes and then gush over how unbearably cute they are.
Cuteness like this is ALL GOOD!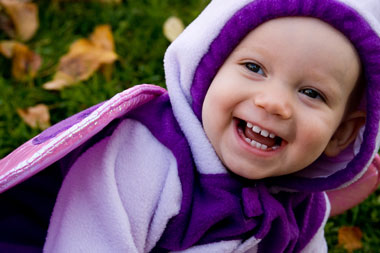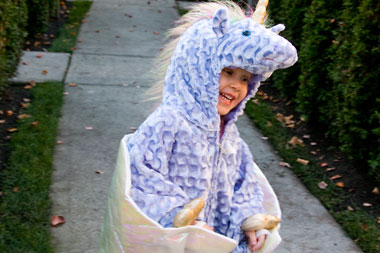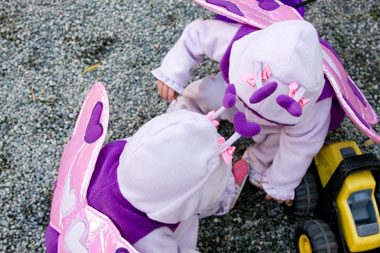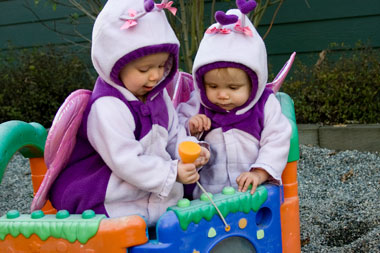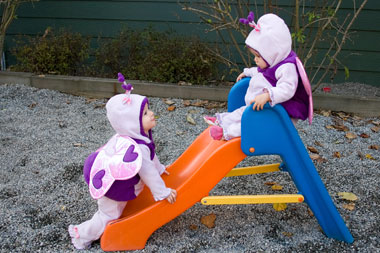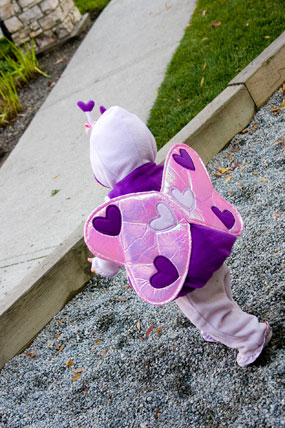 P.S. Olivia and Sophia's costumes are from Old Navy and Julia's is borrowed from a friend. But from the looks of it, I think it might be from Old Navy too. They always have such cozy costumes for the tiny ones.
P.P.S. The great thing about the girls being so young, I can keep using Olivia's costume as a warm outdoor outfit straight through till February without her complaining, "But Moooom – it isn't Halloween." She doesn't know any different. And I can't get enough. I mean come on! She has wings and little, purple antennae. How can I ever get enough?