This post may contain affiliate links. Read my disclosure policy here.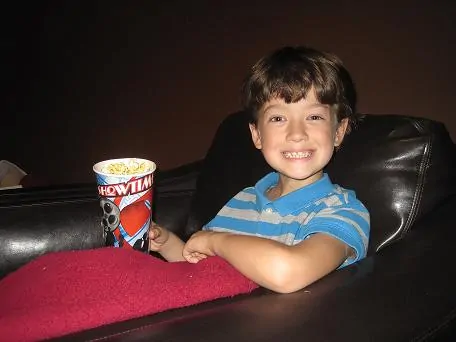 Watching movies as a family is a fun activity. For my 7-year-old son, if we pop some popcorn and give it the name "Family Movie Night," it ramps up his enjoyment tenfold. We don't take enough time as a family to celebrate, and since popping a little popcorn and taking 90 minutes to watch a kid movie feels like a celebration, I really should make an effort to do it more.
Kid movies, especially in the direct to DVD variety like Beethoven's Christmas Adventure, are pretty formulaic, but that doesn't mean that they aren't going to entertain your family.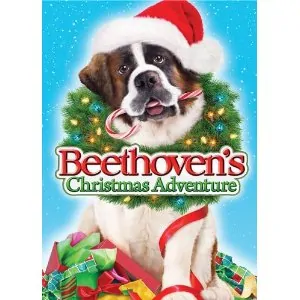 This movie includes the following predictable plot elements — parent whose work gets more attention than their children and evil criminals. Add a real-life Christmas elf who falls out of the sled, losing Santa's magic toy bag, and a big slobbery Saint Bernard, and you've got elements that kids will enjoy.
In this movie Beethoven and the stray dog that tags along for this adventure can talk — sort of. You see, the elf is actually a stable elf who takes care of the reindeer and all animals at the North pole, so he is able to understand dogs. Hearing the dogs talk added a lot of humor and some heart to the movie, and I appreciated the way this plot twist was presented.
Watch the trailer or check out the Beethoven Movies Facebook page for more info.
Content Note: Some passing gas jokes (from dogs), and before the teen learns to "believe" he tells the Christmas Elf who has come straight from the North Pole that believing in Santa is kid stuff, but my 7-year-old didn't blink an eye at that.
I have some great news. Two of you (U.S. shipping addresses only) will win this fun Family Movie Night pack to enjoy with your family this holiday season:
Family Fun Night Popcorn Kit
Plus FOUR other holiday DVDs from Universal

Just leave a comment if you'd like to win. The winners will be announced on December 11.
*Original post by 5 Minutes for Books Managing Editor and 5 Minutes for Mom contributor Jennifer Donovan. I received a Family Fun Night kit and DVD so that I could review. This review is subject to the terms in our disclosure policy.