This post may contain affiliate links. Read my disclosure policy here.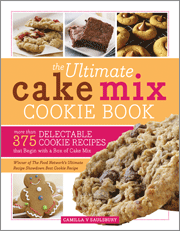 My young teen baker and I have had SO much fun exploring and creating with The Ultimate Cake Mix Cookie Book: More Than 375 Delectable Cookie Recipes That Begin with a Box of Cake Mix by Camilla Saulsbury.
This is a nice big book full of recipes in three sections: drop cookies, bar cookies, formed and filled cookies.
We have marked many recipes to try, and have actually made several, ranging from the simple peanut butter cookie, to the slightly more complex (and delicious) peanut butter fudge bars that came together in a snap. The easy recipe for cake balls is up next (in fact, we've made the cake and will be combining it with frosting and dipping them tomorrow).
If you have kids like mine who are always wanting to make something (or to eat something), it's pretty easy to keep some of these basic ingredients on hand so that you are ready to whip them up.
But if you are looking for something original, you can turn to this cookbook as well. Included in the pages are recipes for
Lime in the Coconut Cookies
Orange Dreamsicle Cookies
Mocha-Cappuccino Cheesecake Bars
Benne Seed Crinkles
I think that this would make a fantastic gift idea for anyone who likes to bake: a tween or teen girl or boy, or a sister or mother — or for that matter, a sister or mother who does NOT like to bake, because the recipes are original and easy.
I could imagine wrapping up this book on top of a brand-new cookie sheet or bar pan and including two boxes of cake mix. How fun is that? I was going to do this for my sons teachers, but ended up doing something else, however I think I will do it at the end of the year, when they actually might have more time to bake with their families.
Go ahead and buy it now and start your holiday season off right. If you win the copy, I guarantee you'll find someone else who will love it.
Leave a comment here if you'd like to win. We'll announce the winner on December 5.

The winners of Razzle Dazzle Ruby are #21 mrsshukra and #24 Tina M. And if you want a chance to win even more books, check out all of our current giveaways at 5 Minutes for Books, as well as last week's column that is still open for entries: Hurry Less, Worry Less at Christmas.