This post may contain affiliate links. Read my disclosure policy here.
One of my favorite things about working for 5 Minutes for Mom, is the opportunity it gives me to learn about and try out some ingenious mom invented products. I think it is incredible that a mom can come up with an innovative idea that will make her life easier, and then turn that idea into a product that we all can benefit from. These women are such an inspiration to me.
Julie McWherter and Laura Varn are two perfect examples. They decided to take their ideas and create a company, prettySmart! LLC, dedicated to creating simple products that help women. One of these products is the Azula.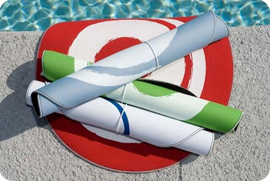 The Azula is a water-resistant, fashionable mat for women to place at the edge of the pool, to keep their bathing suits from snagging.
Since moms with young children are constantly up and down as they help their little ones in and out of the pool, the Azula is the perfect solution for protecting their bathing suits.
The Azula is water, mildew, mold and chlorine resistant. It is lightweight, machine washable and rolls up tightly. It is also perfect for the beach as well, since sand won't stick to it.
You are probably wondering why we are choosing to share the Azula with you now, since it is almost November and your times at the pool and beach have come to an end. But, that is what is wonderful about the Azula, its uses seem almost endless.
The Azula can also be used for changing a baby's diaper and sitting at soccer and football games, especially on wet grass or bleachers. The kids can use it when they sit on the driveway to color with chalk.
Do you have a toddler who is potty training? The Azula can fit on and protect your toddler's seat. If you live in a hot climate, like Arizona for instance, and park a car in the sun, you can use the Azula to protect your skin from the car's hot interior. You can take it with you on camping trips and also place it on your porch or outdoor bench on rainy days.
I don't have a pool, but I was able to use the Azula during a picnic at the park. The ground was wet and the quilt I brought along was soon pretty damp. My daughter was able to sit on the Azula to keep herself dry.
The Azula also comes in many attractive designs, which makes it a practical and fun product.
If you would like to win an Azula and discover how many ways it will make your life easier, please leave a comment below. We have 5 Azula mats to give away. We will draw our winners on Saturday, November 15th.
Good Luck.