This post may contain affiliate links. Read my disclosure policy here.
My two-year-old loves to parade around the house with his toothbrush in hand, brushing away at his teeth. And although he is usually rather excited when it is time to brush his teeth, he does have those occasional cranky mornings and late nights, when he does not want me to come near him with his toothbrush. And as many of you parents know, a stubborn two-year old can put up quite a fight.
But thankfully, on those days when he decides to exert his toddler independence, I can reach for my Tooth Tissues, which help me to quickly and gently remove decay causing plaque from his teeth. Although they were designed to use after a baby's feedings, in between brushings and after meals-on-the go, I do also use them when my son refuses to brush his teeth.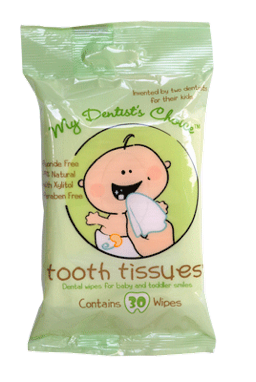 Invented by two dentists to use on their own children, Tooth Tissues are disposable textured dental wipes especially designed to help remove plaque from baby and toddler's teeth and gums. Tooth Tissues are perfect for busy new parents eager to get their child off to a healthy start.

Formulated with xylitol – a natural cavity fighter, Tooth Tissues can be used with confidence because they are 99% natural, fluoride and paraben-free.
I like to keep mine in my purse to use when we are on the go, especially after my children have been to a birthday party snacking on sweets. I also use them often with my 7 month old after his feedings.
They are easy to use and they really do leave your mouth feeling fresh and clean. Yes, I use them on my own teeth as well.
Younger children consume a lot of milk, juice and other sweetened beverages. They walk around with their sippy cups, sometimes for large chunks of the day. They fall asleep after nursing or feeding on a bottle. The sugars in these beverages feed bacteria into the mouths. The bacteria produces acids which attack the teeth and cause decay. Prevention is important!
With Tooth Tissues you can help to maintain your child's healthy smile while also promoting proper oral hygiene. Now that is something to smile about!