This post may contain affiliate links. Read my disclosure policy here.
The bottom of the diaper pail is not a pleasant place to be.
And I know. I have been there.
On a Monday morning, I grabbed my purse, keys and bottle of water and, while wrapping my coat tightly around me to protect me from the frigid air and hollering at Jackson to hurry up, I unsuspectingly opened the door of my van and jumped in.
"Oh my word," I howled and leaped out. "What on earth?!?"
I was shocked and confused. It was a literal diaper pail in my van.
You know that smell when you are emptying the diaper pail that you allowed to get way too full? As you pull the bag out, a belch of rotten diaper air hits you. Yes – that belch of putrid, poo-filled diaper smell WAS my minivan.
But I couldn't figure it out. I am so careful to never leave a dirty diaper in my van…
Then I looked down and saw it – a swollen diaper, rolled up and sitting on the floor of my mini-van.
"PHIL!!!!" I screamed with rage under my breath. I grabbed the diaper out, opened all the doors and ran back into the house to give the van time to air out.
Jackson was going to be late for school, so we couldn't wait it out for long. I decided to use the time to phone my husband and ask him if he was trying to kill me on purpose or if this was a subconscious attempt to murder his wife.

"Ohhhh… so sorry. Yeah – that was me. Olivia pooed when we were out on Friday," he apologized.
FRIDAY?!? I reviewed the weekend in my head. Yes – I hadn't used the van since picking up Jackson from school on Friday, before Phil took the kids shopping. That will teach me to work all weekend.
I couldn't put the inevitable off any longer. We had to get in the van.
But the smell hadn't faded. It was alive, living in the carpet and upholstery fibers, clinging to the wet windows, thriving in the soggy air.
I undid the windows despite the frozen air and drove to school, my head half way out the window. By the time I got home from driving Jackson, I was cold, wet and had a kink in my neck.
Despite the wet, fall weather, I left the car windows open for days. I think it was a week before the smell was gone.
Or maybe I just got used to it. That is the thing about smells. We can get accustomed to them.
Which is what makes the Diaper Genie so brilliant…
(Wow – how is that for a segue? I SWEAR I didn't make up that story for this post! It just happened to work so neatly together! LOL Anyway – back to the Diaper Genie.)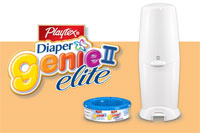 This fantastic creation keeps those dirty diapers sealed off from the rest of the house, so when guests come over they don't smell diapers and want to run to an open window for air.
And when it comes to emptying the Diaper Genie II Elite™, you don't have to worry about the vile air billowing up into your face. It is already all sealed off. Clean. Simple. Done.
Playtex has given us a Diaper Genie for one of you – so if you want to win the new Diaper Genie II Elite™, just leave a comment below.
We will announce the winner of our Diaper Genie contest on November 15th. Our contest is open to US and Canadian shipping addresses.

And if you have a foul diaper story to share, (I am sure we all have a few!) then HURRY and enter to win Playtex's SMELL TALES contest for a chance to win $5,000.00!!!!
You have until Sunday, October 26th to enter the Smelly Tales contest. Head over to Smelly Tales to find out more.
Susan and I are on the judging panel along with Kim from What's That Smell and Amber from Crazy, Bloggin' Canuck. I have been reading some of the stories already and I know deciding the winner is going to be tough! Playtex will announce the Smelly Tales contest winners on November 11th.
While you are at BabySmells.com make sure you check out what this unique online resource has to offer, such as info on baby's smell development and weekly Smelly Tale Webisodes of the crazy, smelly lives of 3 different families with multiples.
So to recap:
If you want to win the new Diaper Genie II Elite™ from us here at 5 Minutes for Mom, just leave a comment below. You have until November 15th.
To enter to win the Smelly Tales contest for a chance to win $5,000.00, visit Smelly Tales.com. You only have until October 26th for their contest – so hurry!