This post may contain affiliate links. Read my disclosure policy here.
When I was growing up, peanuts were always something we had around the house. My dad loved them and we all enjoyed them for snacking. Even now, peanuts still bring back fond memories of my dad. Before he passed away, my kids loved going to visit Grandpa and they knew that he always kept a bag of peanuts (in the shells) in his garage.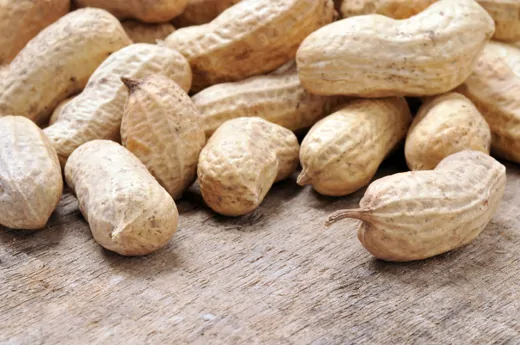 As a mom, I'm always looking for smart snack ideas for my busy family. Peanuts and peanut butter snacks are one way to provide quick, delicious and nutritious alternatives to those high-sugar and nutrient-deficient snacks that we are sometimes tempted to grab.
According to Sherry Coleman Collins, registered dietitian, "eating healthy snacks between meals can be a great way to maintain energy during the day; snacks can also help people eat more nutrients overall, when nutrient-rich snacks are selected."
Did you know that because peanuts have a high protein, fiber, and fat content they help you "feel full" and may actually help moderate your appetite? And, here are some more nutritious facts about peanuts:
Peanuts contain the most protein of any nut, packed with 7 grams of protein per serving
Peanuts contain more antioxidants than broccoli, carrots, or green tea (antioxidants may protect us from diseases such as cancer, cardiovascular disease, immune dysfunctions, and cognitive problems associated with aging)
Peanuts are a Superfood – with more than 30 essential nutrients and phytonutrients. Peanut butter is a good source of vitamin E and an excellent source of niacin, an essential vitamin that converts food to energy, both of which are important for proper growth and development.
The National Peanut Board, along with Sherry Coleman Collins RD, has developed some new "smart snacks" – tasty treats which are meant to help families enjoy healthy snacks that are affordable and quick and easy to prepare. Check out two of these recipes below:
Power-Packed Peanut & Chocolate Covered Cherry Smoothie (Serves 2)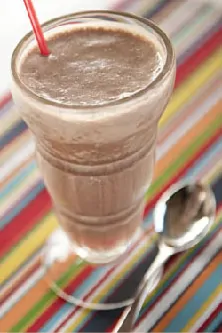 Ingredients:
1 cup Black Cherry Juice
¼ cup Peanut Butter, smooth
4 oz. Vanilla Greek Yogurt
½ small Banana
¼ tsp Ground Cinnamon
1 tsp Honey, strained or extracted
4 tsp Unsweetened Cocoa
1 cup Ice
Directions:
Add all ingredients to blender and blend until smooth.
(As an option, replace peanut butter, honey, and cocoa with delicious dark chocolate peanut butter and nutrition facts would be slightly different.)
Nutrition Facts:
Serving Size: 1 serving (359.7g), Calories 370, Calories from Fat 150, Total Fat 16g, Saturated Fat 3g, Trans Fat 0g, Cholesterol 0mg, Sodium 200mg, Total Carbohydrate 45g, Dietary Fiber 3g, Sugars 28g, Protein 15g
Peanut Pick-Me-Up Snack Mix (Serves 16)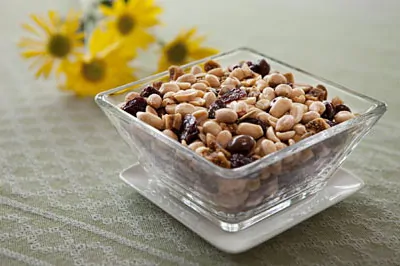 Ingredients:
1 lb Roasted Peanuts
½ cup Tart Cherries, Dried
4 oz. Dark Chocolate Covered Raisins
½ cup Pumpkin Seeds
½ cup Dried Figs
Directions:
Mix all ingredients together and store in an airtight container for up to 3 weeks. One serving is approximately 1.6 oz.
Nutrition Facts:
Serving Size: 1 serving (61.2g), Calories 230, Calories from Fat 150, Total Fat 16g, Saturated Fat 3g, Trans Fat 0g, Cholesterol 0mg, Sodium 230mg, Total Carbohydrate 18g, Dietary Fiber 4g, Sugars 9g, Protein 8g
For more information on peanuts and nutrition as well as more smart snacking recipes using peanuts, visit skinnyonnuts.com.
Disclosure: The National Peanut Board provided information used in this post. Any opinions expressed are 100% my own.
Written by Kari Crum. You can find me blogging at www.alas3lads.blogspot.com and tweeting at www.twitter.com/alas3lads
Peanut image from 123RF Stock Photos.