This post may contain affiliate links. Read my disclosure policy here.
We've been working our children's 67 year old grandmother harder than any labor law would ever allow.
As you may know, Janice, our mom and I own two e-commerce stores. We have a couple part time employees, but since Janice and I spend so much time working with 5 Minutes for Mom and wrangling our munchkins, our mother is basically left running the stores solo.
Over the last year, as our dear mother worked day and night, Janice and I insisted we need to hire another full-time employee to help her. But she argued that we'd never find the right person. And since we're all so busy, months went by without us looking for a new worker.
Until one day, I finally decided to put an ad up locally on Craigslist and pray! We needed someone who was a creative (and FAST) writer, knew HTML, had worked on e-commerce store before, was a smooth talker who could provide outstanding phone customer service, and had a variety of social media experience. Basically, we wanted it all in one local person, and we never thought we'd find it.
But…
Timing + Craigslist + Prayer = Rockstar Employee
When the resumes started arriving, one caught my eye and I picked up the phone immediately.
After a few minutes chatting over the phone, I was pretty sure we'd found a superstar, but I didn't realize that we'd actually found a ROCKSTAR!
It's been just over a week now and as we've gotten to know our fabulous new helper, we have realized what an extraordinary gem we pulled out of Craigslist.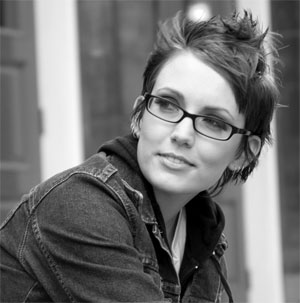 Allow me to introduce the unbelievably versatile and multi-skilled Billy The Kid.
The fact that Billy has landed in our little home office is so fantastic for us… but it does come because of a little interruption in her rock stardom.
As the music industry makes it tougher and tougher for indie artists to feed themselves, even one "one of Canada's rising stars" (See Magazine) with her latest album produced by Raine Maida (from Our Lady Peace) is having to supplement her income.
Fortunately for us, in addition to rocking-out over the last few years, Billy (who has a degree in writing) has acquired an amazing variety of skills and experience. This "DIY poster girl" (Vue Weekly) created and ran Lost Records an independent record company, where she did everything from setting up an e-commerce store to building and managing a team of staff to promote other indie rock bands throughout the US and Canada.
Through social media, Billy helped artists like herself spread their sound without spending their dollars.
It was even through the social media giant MySpace that Raine Maida discovered Billy and offered to produce her album.
But as successful as Lost Records became, Billy still decided the income was too unpredictable and that it may be time to move on.
The last several months Billy worked on her album and toured with Raine and his wife Chantal Kreviazuk.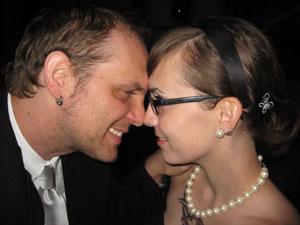 During the tour she and Raine's drummer Randy Cooke fell deeply in love and they would be living happily ever after, except for that pesky Canadian citizenship issue.
Can you believe her luck? She had to fall for a drummer living in the US, who happens to ALSO be a Canadian. (Have I mentioned before what a hassle being Canadian can be?)
Anyway, we're working on solving that whole Visa issue and soon I'm confident she'll be living happily ever after with her rockstar boyfriend… and hey, maybe some rockstar babies.
But for now she's all ours and we ADORE HER!!!
Well, okay… you can enjoy her talents too…
Check out her MySpace page (where Raine discovered her) and get some of her songs from iTunes or order her new CD from her online store. (It's just 5 bucks). Her latest album is EXACTLY my style… I love it!
She used to front a punk rock band called Billy and the Lost Boys, but now she's gone solo and her sound is just right for me.
So turn up your speakers and listen to our new favorite rockstar Billy The Kid!
If you'd like to win a copy of Billy The Kid's latest CD, visit her myspace page and listen to the two songs she features there: "These City Lights" and "Just Trying to Get By". Then come back here and leave us a comment telling us which of the two songs you like best.
(Also, it would be so great if you could share some link love with her. If you could link back to this post and/or her Billy The Kid Myspace page, that would be so nice!!!)
We'll draw 3 random winners on Saturday, November 8th. Each winner will receive the just-released CD The Lost Cause.
(This giveaway is open to US and Canadian shipping addresses.)