This post may contain affiliate links. Read my disclosure policy here.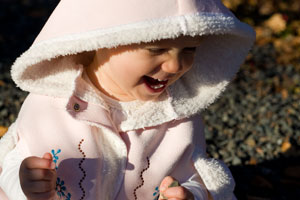 Bundling up babies, toddlers and preschoolers is definitely not some of the easiest – nor the fastest – parts of parenting.
Then add the complication of buckling these wrapped up kids into car seats and things really get tricky!
The wind is howling, the air is frozen, the car seat is cold, and somehow we are supposed to strip down our kids to fasten them in their car seats! HELP! That makes me cold just thinking about it.
"always remove bulky clothing or blankets before you place your child in the seat" – National Highway Transportation Authority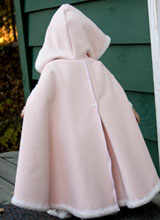 So ingenious moms, Elizabeth Hostler and Suzi Crowder, created Babycapes — an outerwear solution for the daily struggle of trying to get little ones into car seats with bulky winter coats.
With Babycapes, you don't have to take off your child's coat to strap them in their car seat. The back simply opens up, so there is no bulky fabric between your child, the back of the car seat and the car seat straps. As well, you can easily access the straps to quickly fasten in your child. It is cold — and you want to move fast!
The Babycape also works great in a stroller, a front carrier — and as a poncho. I use Olivia's Minky Sherpa Suede Babycape as a beautiful, warm winter poncho. It doesn't get much cuter that that!
The Babycape's convenient front opening provides easy access to harness straps keeping baby safe and snug while the innovative back opening allows you to easliy slip your child into a stroller, car seat, etc. — without unbundling!

Assembled in the USA, Babycapes are wonderful, custom-made garments available in a variety of luxurious, machine washable fabrics. One size fits newborn to preschooler, so one Babycape will last several seasons!
The Babycapes come in three different fabrics.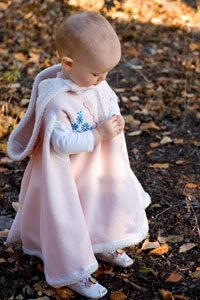 The luxurious Minky Sherpa Suede that Olivia is wearing here is just gorgeous. It is the heaviest weight of the Babycapes and provides the most protection against the wind and cold. Although the outer layer looks and feels like suede, it's completely washable!
Their softest Babycape is made of yummy Minky Marshmallow. It is heavyweight, but more pliable than the sherpa suede and will also keep your child warm and cozy.
Finally, Babycapes come in a Minky Cuddle. This super-soft, lighter weight fabric is perfect for warmer climates, or for spring, fall and cool summer mornings and evenings.
This winter, adding a Babycape to your little one's winter wardrobe will be a gift for both of you! Or if you are looking for a beautiful and thoughtful gift for someone else with a baby or toddler, a Babycape would be perfect for a baby shower or a Christmas present.
Through to the end of November, 5 Minutes for Mom readers can enter the code "5 Minutes for Mom" in the comments section at checkout for a free hat valued at $18!
And for a chance to win a Babycape of your choice, leave a comment at this post. (If you are a blogger, feel free to mention this contest on your site if you want!)
This giveaway is open to both US and Canadian shipping addresses. We will draw a winner November 8th.