This post may contain affiliate links. Read my disclosure policy here.
Have you ever been invited to a baby shower and stared at the store shelves wondering what in the world you should buy for the new mom? Contributing writer, Barb, has found a great solution…
Finding the perfect gift for a baby shower can be an exhausting adventure in itself. There are so many baby gizmos and gadgets to choose from a shopper could become overwhelmed easily. Making the right choice needs to be determined by a few key factors – like the child's age and gender and developmental stage. But where to start?
Baby Gifts From Newborn To 18 Months
Seasoned moms know that it's best to take help when you can get it. One such online store for this is Citrus Lane Gifts. Moms are busy so Citrus Lane does the legwork and research for Moms…like you. All you'll need to know is the gender and age of the baby. All of us can manage those two things with hardly any time consumed on our part.
I was thrilled when Citrus Lane Gifts offered to send me a gift box from their mail order service for new parents. My box was filled with everything from a toy and teether to tooth tissues and tips.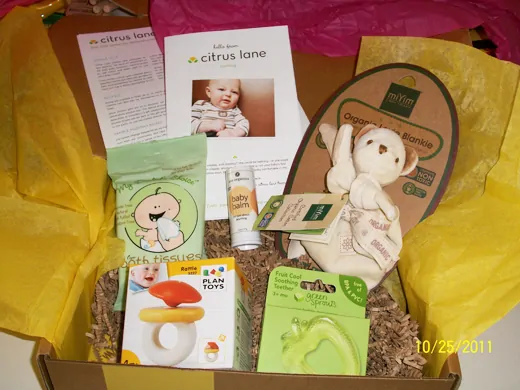 Citrus Lane New Baby Gifts
Citrus Lane Gifts are creative gift boxes made with items reviewed by parents like you. You will be able to relax knowing your gift will be the perfect choice for any little one to receive. With each gift box, you can read why each item was chosen and see where to purchase more of your favorite products.
Citrus Lane was founded by two moms who know what it's like to be a new mom, and have tried and tested many products with their own kids. Each package is filled with carefully edited selections of baby products that correspond to special occasions or a baby's monthly milestones. I love the fact that all of the products that are hand-selected for the gift boxes are not only high quality and fun, but they have been chosen because they solve a real problem.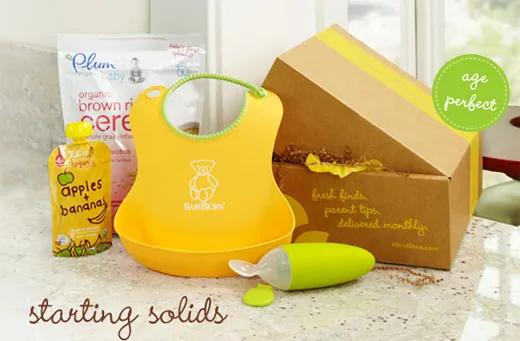 Subscribe to Citrus Lane
Citrus Lane is the baby shower gift that keeps on giving. Not only does Citrus Lane take the guess work out of shopping for baby gifts, but the recipient can continue to enjoy a surprise gift delivered to their door through the first year and beyond. Whether it's the perfect "welcome home" package, a "starting solids" gift box, or a 12-month subscription for each month of a baby's first year of life, Citrus Lane has top-quality products for every stage of baby's life.
How it works:

Citrus Lane monthly boxes are like care packages for parents!

With your subscription to Citrus Lane, you'll receive a monthly box filled with 4-5 healthy and delightful baby products recommended and reviewed by real moms.

When you subscribe, you can pick any box to start with, based on your baby's age, from newborn up to 18 months. The goodies inside will be tailored to the developmental stage of your child.
Gift boxes range from $35 for one box, to $75 for a 3-month subscription, to $250 for an annual subscription.
Connect with Citrus Lane Gifts:
Citrus Lane Website: Citrus Lane Gifts
Citrus Lane Facebook Page: Facebook Citrus Lane
Follow Citrus Lane on twitter: @CitrusLane
Citrus Lane Blog:Citrus Lane Blog
Disclosure Note: We received a baby gift box for reviewing purposes. Our opinions are 100% our own honest opinion.
Written by 5 Minutes for Mom contributing reviewer Barb. Barb is a mom of 2 and author at www.diabeticsnacker.com where she writes product reviews from A-Z, parenting, reviews and healthy eating tips from Indiana.