This post may contain affiliate links. Read my disclosure policy here.
My son Jackson started having showers instead of baths at a crazy early age. He discovered he liked the shower at the swimming pool, so I turned into the only mother with a 2 year old calling out that it was time for his shower.
My daughter Olivia is a regular bath loving little kid. She loves to have a variety of fun toys… of course the Disney toys are top pick… and she'll play happily until her fingers and toes turn to raisins.
Susan's two girls were different from each other in how they spent their bath times. Julia would often have to be enticed by toys to get into the bath and then would usually stay in only as long as Susan was actively playing games with her.
But from an early age Sophia loved her bath time and often asked to get in the bath and then would play with her toys by herself singing along and making up stories for herself. She would be in ultimate bliss and as a mother and aunt watching her happily play by herself we were in equal bliss.
Whether your child likes to shower like Jackson or lounge in the bath like Sophia, they all love fun bath/shower toys and soaps/shampoos with their favorite characters. It just makes getting clean so much more fun.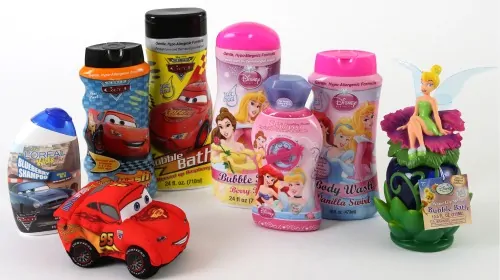 Week 6: Have a Blast in the Bath
After a long day of classes, recess and after-school play, kids need to clean up – and wind down.
The key to getting your little ones to love the tub is to make it a treat, not a task. Shampoo, body wash and bath sponges with their favorite Disney characters promise that when it comes to fun, bath time is never a wash!
Tips to help make bath time fun:
Transition play time to bath time by allowing your kids to pick out which bath toys they want to play with
Let your kids pick a shampoo or body wash with their favorite Disney character and create a story to make bath time more fun
Head over to the DCP's official Facebook page, Disney Living, to find out more about this week's challenge and tips from the "Go-To Mom," Kimberley Clayton Blaine, who has partnered with Disney to bring weekly video parenting tips.
Giveaway!
If you'd like to win a prize pack of the fun bath products shown above, leave a comment telling us "What bath time games make the biggest splash with your kids?"
This giveaway will end on Friday October 28, 2011 at midnight ET and a winner will be chosen at random and announced Sunday in the weekly Around The Blogosphere. Please see our site's terms and conditions for more information.
Please note that we are compensated Disney Brand Ambassadors, but as I said, our love of Disney and all of our opinions are completely our own!
Written by Janice Croze, co-founder of 5 Minutes for Mom.
Wanna chat? Find me at: @5minutesformom, @janicecroze and Facebook.com/5minutesformom.