This post may contain affiliate links. Read my disclosure policy here.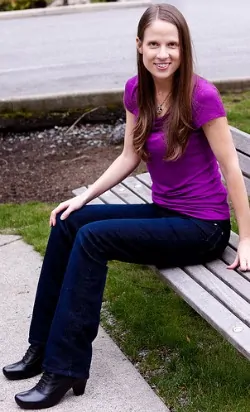 I like wearing jeans. I LOVE wearing jeans that make me LOOK good and FEEL good at the same time.
So when I pulled on a pair of SkinnyJeans®, looked in the mirror and then did my ultimate "jeans-test" — I sat down in them — I knew I'd found true denim love.
Then my love grew even deeper as I got to know the story behind the brand.
It turns out the reason SkinnyJeans® look and feel so good is that a real woman solved the real problems women have when wearing jeans.
That brilliant problem-solving entrepreneur is Catherine Hart.
Several years ago, before the trend of skin tight jeans with tapered legs was coined "skinny jeans", Catherine figured out that by manufacturing jeans in a better way they could make a woman look thinner.
It's shocking to hear, but Catherine was "a lawyer from California with no design experience." I love that she followed her instinct, worked hard to design and deliver a quality product that solves a real need for real women. (And cheers to her for registering a phenomenal trademark ahead of it's time.)
I love this video interview with Catherine shortly after she created her new brand of jeans. She tells the inspiring story of how she invented SkinnyJeans®.
Catherine did it. She had a vision, followed through with determination and you and I are skinnier for it.
The photo at the top of this post is of my twin sister Janice in her SkinnyJeans®. While you may say, "But Janice IS skinny," and I agree she is (I always nag her to eat more), my pair is a size larger than hers and also make me look skinnier than I am. These jeans truly are figure flattering.
SkinnyJeans® come in a variety of styles in sizes 24-32 and 34, 36, and 38. (Janice is wearing NiteOut in size 27.)
Want To Try SkinnyJeans®?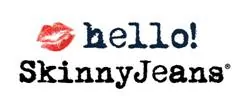 Leave a comment and tell us which style you'd pick. We'll draw a random comment number to win a pair of SkinnyJeans®.
Open to residents of Canada and the United States.
This giveaway will end on Friday October 28, 2011 at midnight ET and a winner will be chosen at random and announced shortly after. Please see our site's terms and conditions for more information.
Written by Susan Carraretto, Mom Blogger and co-founder of 5 Minutes For Mom
Wanna chat? Find me at: @5minutesformom, @susancarraretto and Facebook.com/5minutesformom.
Have you seen our new Deals Facebook Page? I think you'll "Like" it… 😉