This post may contain affiliate links. Read my disclosure policy here.
My son Jackson was once a vegetable, fruit eating machine!
I eat a ton of fruits, raw veggies and salads, and my son would devour a plate full of raw veggies almost every night before I gave him his "main course" of dinner.
But now, getting fruits and vegetables into my kids has become… difficult. Very, very difficult.
Jackson has become quite picky, and now only has a handful of vegetables that he will eat. And the crazy monkey even resists fruit!
My daughter Olivia will only eat her carrots if they are raw, but she is not as picky as Jackson. She will eat a variety of fruits and veggies, but it can be a challenge for sure!
So, when it comes to getting my kids to eat more fruits and veggies, I am ALL for Disney helping me out with a little marketing…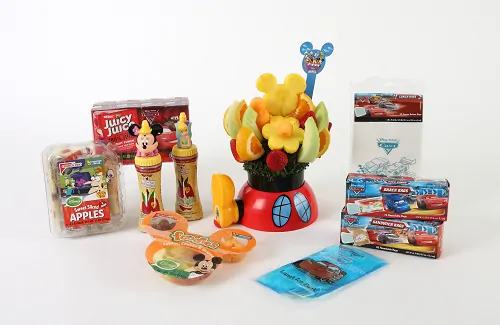 My kids love the Disney themed snacks like the Crunch Pak Apple Slices and Brother-All-Natural Freeze Dried Fruit Crisps.
And when I pack them with the Disney themed Insignia Sandwich Bags, Snack Bags, Lunch Bags and Ice Packs, it adds to the fun. Olivia especially loves to color in the designs on the Lunch Bags!
Week 5: Eat More Fruits and Veggies
This week's Disney D-Lightful Living challenge is to encourage our families to eat more nutritious foods.
Tips for getting kids to eat more fruits and veggies:
Presentation is everything so make a plate of fruits and veggies look attractive for kids to try
Replace traditional play date or party snacks with festive food like a Disney themed-bouquet of fruit
Grab a juice box with your kid's favorite characters on it – they'll have so much fun they won't even know it is also nutritious
Head over to the DCP's official Facebook page, Disney Living, to find out more about this week's challenge and tips from the "Go-To Mom," Kimberley Clayton Blaine, who has partnered with Disney to bring weekly video parenting tips.
Please note that we are compensated Disney Brand Ambassadors, but as I said, our love of Disney and all of our opinions are completely our own!
Written by Janice Croze, co-founder of 5 Minutes for Mom.
Wanna chat? Find me at: @5minutesformom, @janicecroze and Facebook.com/5minutesformom.