This post may contain affiliate links. Read my disclosure policy here.
What are the differences between battery types?
In simple terms, batteries come in two basic types: single-use (which have one life cycle and must be replaced when drained) and rechargeable (which can be recharged and used repeatedly). But within those two basic types are a ton of different kinds of batteries.

Rayovac Heavy Duty:
Best for low-drain household electronics
Great for remotes

Rayovac Alkaline:
Best for household electronics
Most Popular long-lasting power source
Very good shelf-life – up to 7 years

Rayovac Lithium:
Best for high/drain-tech devices
High performance battery for the devices you rely on
Great storage life – 10 years
33% lighter than alkaline systems

Rayovac Rechargeables:
Best for frequent use/high drain devices
Recharges 100's of times
Ready-to-use out of the package
Here's your battery education for the day: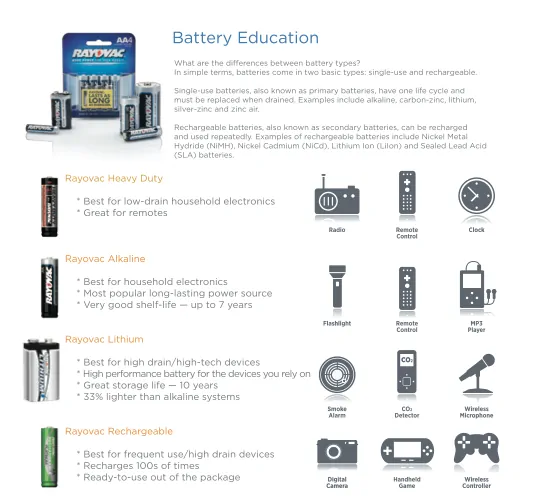 Are YOU buying the right batteries?
Find out even more about battery types at Rayovac – Battery Education

Please Note: We are Rayovac Sponsored Bloggers. Our experiences and thoughts are our own. You can find coupons and more at Rayovac's Facebook Page.
Written by 5 Minutes for Mom managing editor Lolli. You can find me blogging at Better in Bulk and tweeting at @1momof5.