This post may contain affiliate links. Read my disclosure policy here.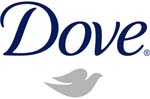 I'm sure that you've seen some of the Dove "Real Beauty" ads in print or on TV. I think it will take a lot more than one company using "real women" (who aren't all 21 and a size 0) in their ads to convince us that there's more to beauty than looking like a supermodel, but I applaud their efforts.
They have even launched a self-esteem program for tweens and teens to empower young women to team up to support each other instead of always ganging up against one another (My daughter Amanda and I got to attend one of these workshops and it was so interesting to hear these girls from all walks of life share about their struggles with self-esteem and then be challenged to come up with solutions for themselves).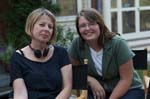 I love that idea of teaming up — girl power — supporting their friends. One of the slogans of the new movie The Women is "Behind every beautiful woman are her best friends." Dove has gone "Behind the Women" with the writer and director of the movie Diane English. The short documentary film, "The Women Behind the Women" employs a junior journalist, 16-year-old Cammy Nelson (pictured here with Diane English) to look at what went into making this movie, and how the themes designed to empower women and to underscore the importance of friendships in their lives were realized not only in the film, but while making it as well.
It's a proven fact that a majority of teen girls believe that models and actresses are just naturally beautiful. The commentary from the editor that it's the confidence and expression that comes across in an actress's face that makes her beautiful, or the time that Cammy spent with the make-up artists who shared their mantra "It takes all day to become a natural beauty," along with the insecurities from their teen years that the actresses share will make you think, and hopefully make you appreciate the way you were created.
If you are interested in film production, any of these actresses, women's relationships or a teen's view on the media, I recommend that you watch this mini-documentary and then share it with a teenager in your life as well.
You can win a prize pack worth $350 from Dove:
A year's supply of Dove products
Two ticket vouchers to see "The Women" movie
A movie poster signed by the director Diane English and some of the cast
Winners must be 18 and over and reside in the U.S. Leave a comment on this post, and we'll announce the winner on October 18.