This post may contain affiliate links. Read my disclosure policy here.
Add a Disney character, and my kids are jumping to make good choices!
Yes, it is true. My kids love Disney. And so do I. From the parks, to the movies, to the characters, even down to the vitamins, we are Disney loyalists.
So, even before the giant box of samples arrived and Susan's kids and my kids started squealing over their Disney-stamped bounty, you would have found many of these items already in our house.
Cause if Cinderella is on it, Livvie wants it.
It is pretty simple — Olivia wants the Princess vitamins, the Princess lip gloss, the Princess anything! Oh and throw Phineas and Ferb on a product and my three year old will wrestle her 85 pound nine year old brother to the ground for it!
If I am in the aisle, and there is a choice between a product with a Disney character and one without, I am usually going to reach for the Disney product. Yes – just telling it like it is baby.
So, when Disney helps me encourage my kids to make healthier lifestyle choices, I am pretty darn happy!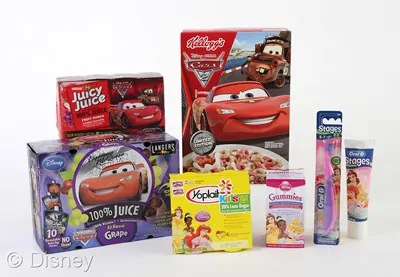 Susan and I are thrilled to be sharing with you the new Disney D-Lightful Living: Animate Your Daily Routine program — a series of weekly challenges over the next 12 weeks.
And not only do we love Disney, but our friend and fabulous child development expert, the "Go-To Mom," Kimberley Clayton Blaine, has partnered with Disney to bring weekly video parenting tips on DCP's official Facebook page known as Disney Living. Kimberley will share simple tips and product suggestions to help other parents guide their kids toward a healthier lifestyle, (yes – using products that feature their favorite Disney characters!)
This week the focus is on helping kids start the day with smart choices – such as giving your kids a choice of what kind of breakfast cereal they want.
I love to give my kids choices whenever I can. It helps kids to feel more in control of their world and builds their self esteem.
As a parent, it is really simple to do. When it comes to food, make sure you have healthy options, and then let them make their choice.
You can head over to the D-Lightful Living page on Disney Living Facebook to find out information on each weekly challenge including tips from Kimberley Clayton Blaine and information about relevant Disney-branded products to help succeed with each challenge.
There is also downloadable checklist outlining all 12 weekly challenges available that you can put up in your house to help track your family's progress. And if you want, you can also join in the online forum to share your tips toward healthier habits and enter to win a weekly Disney-branded product prize package.

Please note that we are compensated Disney Brand Ambassadors, but as I said, our love of Disney and all of our opinions are completely our own!
Written by Janice Croze, co-founder of 5 Minutes for Mom.
Wanna chat? Find me at: @5minutesformom, @janicecroze and Facebook.com/5minutesformom.