This post may contain affiliate links. Read my disclosure policy here.
When was the last time you had a sit-down dinner with every member of your family present? Are you like most families these days, running around to different activities every afternoon and grabbing dinner whenever you have a few spare minutes?
When our parents were growing up, family meal time was a ritual that would not be compromised. Parents, kids, and teens gathered around the dinner table to eat, relax, and discuss their days together.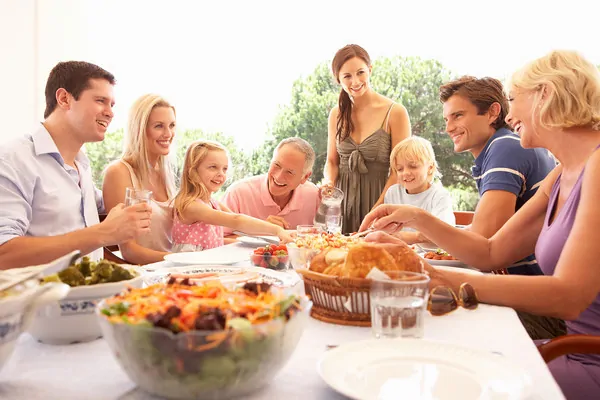 I'm one of the lucky ones – dinner time was sacred when I was a kid, and even if we were eating left-overs, we ate at the same time, sitting down at the table together. My mother instilled the importance of family dinners in me.
When I got married and had kids of my own, it didn't even occur to me that there was any other way to eat dinner. Although I may not cook fabulous meals every night, I make it a point to gather everyone to the kitchen to spend that hour together.
The family dinner table is not really about the food – it's about the time spent together.
Les and Leslie Parrot have written a book called The Hour that Matters Most: The Surprising Power of the Family Meal and I couldn't agree more with their premise.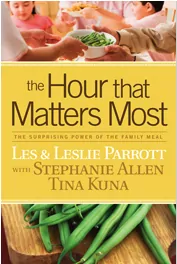 The facts are on the table. Dinnertime is truly the most important hour in a day that a family can spend together. Focusing on the family meal, this book will help strengthen families by showing them how to reclaim this important time in order to build relationships, draw closer to one another, and restore a sense of peace in their homes. Millions of parents in America can picture the kind of home life they want but don't know how to make it a reality. The Hour That Matters Most will help readers strengthen and transform their own families—specifically around the dinner table.
You can find out more about The Hour that Matters Most and its authors, Les and Leslie Parrot with Stephanie Allen and Tina Kuna at the book's website, or you can purchase a copy or download the kindle version at Amazon.com.
Check out these 3 book reviews with 3 different perspectives:
We are giving away 12 (twelve!) copies of The Hour That Matters Most. To enter to win this giveaway, let us know in the comment section what you love about eating meals together.
This giveaway will run through October 14, 2011 at midnight and 12 winners will be chosen at random shortly after the end date. Please see our site's terms and conditions for more information.
Written by 5 Minutes for Mom managing editor Lolli. You can find Lolli blogging at Better in Bulk and tweeting at @1momof5.