This post may contain affiliate links. Read my disclosure policy here.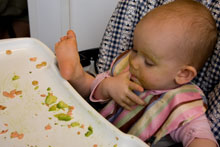 On Wednesday, I posted this shot of Olivia enjoying a finger-food meal of salmon, avocado and cheerios.
Face smeared with avocado and food falling in her lap, Olivia was thoroughly enjoying her dinner.
But what you didn't see was how I was keeping my floors clean while she ate toddler style…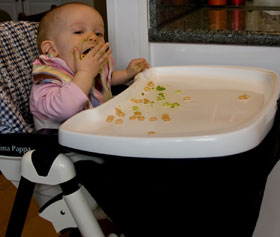 Yes, I had Wupzey helping me behind the scenes.
Wupzey – an ingenious mom-designed creation – is a food catcher made from 100% Rip-stop Nylon that attaches to your high chair to keep all the food, utensils, sippy cups, and everything else your baby drops in her lap, off the floor.
The only problem is if you have a dog, they miss out on the scraps! All the meal mess is contained in the sturdy Wupzey, ready for a quick disposal clean up.
The mom behind Wupzey is Johanna Romaniuk…
"At 5 months, Johanna's daughter preferred to eat by herself, leaving a mess on the floor after each meal. Looking for solutions, Johanna tried the large, bulky floor mats that still needed sweeping. Fold, clean, unfold – the mat turned out to be more work than just letting the food fall directly onto the floor!

Out of necessity, Johanna created the high chair food catcher which is lightweight, compact and durable. She made it easy to attach, detach, clean and able store on the highchair. She also made it to be strong enough to catch "sippy cups," toys and utensils. And, of course, it is completely machine washable."
Johanna also designs bibs and shopping/diner seat covers with the same concept in mind: to reduce work, and to save time and energy.
Made of the same nylon material that the Wupzey is made of, theses durable bibs and covers are quick and easy to clean.
You can buy the Wupzey line of products at Sears.com or directly from their website.
And of course we have some giveaway fun for you all – leave a comment letting us know which color Wupzey you would prefer for a chance to win one of five Wupzey food catchers.
This contest is open to both Canadian and US shipping addresses. We will announce the winner October 11th.