This post may contain affiliate links. Read my disclosure policy here.
I recently had to buy a new printer. Unfortunately, about six months after that I bought a new laptop which had the Windows Vista operating system, and my still-new printer wouldn't work! There was no driver to support Vista. My husband's computer still used XP, so I just had to make sure I used his to print. It was sort of a pain, but the idea of just tossing my printer (and the expensive ink refills that I had just purchased!) was not appealing to me.
Honestly, even when I could print from my laptop, my set-up was still inconvenient. The printer was in the basement, and so each time I wanted to print, I had to take my laptop downstairs, grab the cable and hook it up to my computer and then wait for my document to print. Then I had to do the opposite — unhook the printer and then bring both my document and my laptop back upstairs.
When I bought my last printer, I eyed printers with wireless capabilities because of my set-up, but I wasn't sure that it would really work, and I didn't want to risk spending the extra money to try it out.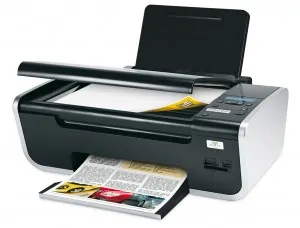 I was so happy when I found out that I was going to be trying out the Lexmark X4650 which is an all-in-one inkjet printer that scans, copies, and prints — and it's wireless. Even better — it's completely affordable. At a retail price of $129, it's perfect for home use, to send with your child to college, or even for a second printer.
When the printer arrived, I delayed setting it up. I had to gear up mentally to read through the book and figure out which cord went into which jack, load the drivers on my computer, etc. etc. (Am I the only woman of the house who ends up stuck with these techy responsibilities? Isn't this supposed to be a man's job?)
When I finally decided to just bite the bullet and set it up, it was a breeze. All I had to do was enter the disk into my computer, and follow the on-screen directions. As the drivers loaded on my computer, I was setting up the printer, as directed. It walked me through plugging it in, adding the ink cartridges, and most importantly — finding the wireless signal. It was so easy!
When it was all set, I wanted to test it out. I brought it upstairs and printed a document. Then I went downstairs, and there it was. No lugging my laptop back and forth, no cables to connect and disconnect.
I'm so glad that I went wireless, and now I'd like to pass that happiness on to one of you.
One of you will win a Lexmark X4650 Wireless All-in-One printer. Just leave a comment here (U.S. addresses only). We'll draw a winner on Saturday, October 4.