This post may contain affiliate links. Read my disclosure policy here.
Jackson and Julia have very different eating habits. Jackson eats almost everything (except he rarely likes fresh fruit – how bizarre is that?) and Julia eats almost nothing.
But the one thing they both always want is yogurt. (What is it with kids and yogurt?) Seriously, if it weren't for yogurt, I am not sure Julia would have grown to even the size she is.
So when Yoplait Kids asked us to review their line, I laughed and said they didn't need to send any samples. My fridge is packed with Yoplait.
But what I didn't know was that Yoplait was about to revolutionize our kids' yogurt eating worlds — and have us running across the border to feed our kids' addiction to their new Yoplait Kids line.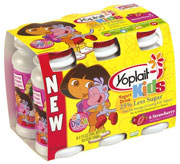 When Yoplait Kids sent us coupons, Susan picked up some Yoplait Kids drinks and yogurt cups when she was in the US. (We live near the Canadian/US border.)
Julia and Jackson LOVED them! Now Jackson wants a Yoplait Kids drink everyday in his lunchbox. And Julia has gone completely crazy over the drinks.
She used to have an obsession with juice boxes — begging for them throughout the day. It would drive us nuts! But since Susan brought home that first pack of Yoplait Kids drink, Julia has completely forgotten about juice boxes. Now all she wants is Yoplait Kids yogurt drinks!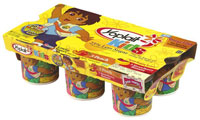 Susan and I are almost as excited as the kids because Yoplait Kids not only has Omega-3 DHA, a nutrient that helps support healthy brain development, but it has 25 percent less sugar than the average leading kid's yogurt with no artificial sweeteners or flavors. They even color the yogurt with beet juice concentrate and turmeric extract!

YES — 25% less sugar without artificial sweeteners, flavors or colors! Thank you Yoplait Kids!!!
We also love the smaller size of the drinks – a perfect size for little hands and little stomachs.
Now our only problem is we need to keep stocking up in the US, cause our kids aren't the only ones who are sold on Yoplait Kids. This is some great stuff!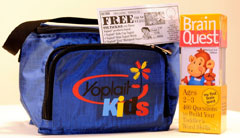 If you want to win one of ten Yoplait Kids prize packs we have to giveaway, just leave a comment on this post.
Each prize pack includes a travel cooler, a free coupon for Yoplait Kids yogurt and a fun and educational game for kids — so when you are on the run, you can keep your yogurt fresh and your kids busy.
We will announce the winners October 4th. This contest is only open to US shipping addresses.
P.S. Yoplait Kids is offering a $1.50 off coupon for a six-pack of Yoplait Kids Yogurt, so even if you don't win, make sure you pick up a coupon at www.yoplaitkids.com before you make your next trip to the grocery store.
*This coupon offer for $1.50 off Yoplait Kids yogurt is not valid in Canada and some states, including Idaho, Louisiana, Nevada, New Jersey, North Dakota and Tennessee.