This post may contain affiliate links. Read my disclosure policy here.
It is coming up on a year since Susan and I counted down the days till our babies arrived. I remember those uncomfortable weeks, as we both longed to meet our little girls.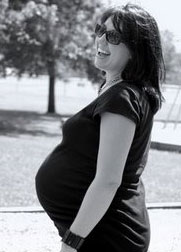 This year it is Steph's turn.
(In case you haven't met Steph yet – she is the fabulous blogger behind Adventures in Babywearing and the managing editor at 5 Minutes for Parenting. Earlier today, we posted the second of our interviews with her from BlogHer this summer.)
Both Olivia and Sophia arrived early, (Olivia was ten days early and Sophia was one day early,) and Steph is convinced her little girl is going to arrive early too.
So – we thought we would have some guessing fun here at 5 Minutes for Mom.
When do YOU think Steph will have her baby?
Her due date is September 18, but her midwife thinks she might go the 10th — and that's always been the date that Steph has thought too!
(I always knew that Olivia was going to come early. I never thought of October 9th as my due date. And true to my maternal instinct, Olivia came on September 28th.)
So let's see who can guess when the big moment will be…
We will have five winners – the five of you who guess the closest will win two fun, Jackson-approved prizes for your kids to play with.
I like these two items because they surprised me with how wide of an age appeal they have. Both of them were sent for us to review and, since they are aimed for younger children, I never expected my six year old to like them so much.
The first is Clipo Figure Bucket from Playskool. Clipo is a new collection from Playskool that encourages creative, open-ended play while helping to develop fine motor skills and hand-eye coordination.

I was especially interested in this toy because I am always looking for toys that Jackson and Olivia can play with together.
While Olivia is too young to actually build, she loves to play with the pieces (and of course put them in her mouth.) And even though Jackson is obviously way older than the intended age group, he still had so much fun building "airplanes" with them that he chose to take them on his weekend trip with Phil. All he took for toys was the Playskool Clipo and two Transformers and his imagination!
The second toy I guess isn't really a "toy" — it is a toothbrush. But Jackson has so much fun with it – brushing his teeth!!! – that it is kind of a toy.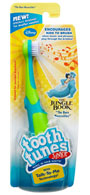 It is Tooth Tunes Junior.
I was intending on giving it to Julia, since it is designed for younger children with preschool friendly music. But when Jackson saw it he jumped on it, "Cool – Tooth Tunes – I always wanted one." (Hasbro sure is good at marketing to kids. I had never heard of them!)
So, despite it being the "junior" version, I decided he sounded like a good tester for the product. And indeed he was! He loves it and it definitely encourages him to brush better and longer. (Now, he wants me to buy him the Transformer Turbo Tooth Tunes, one of the original Tooth Tunes series for older kids. Okay Hasbro – you win again! Can you say "stocking stuffer?" Sounds like a perfect fit.)
How to Play:
To join in our game, leave a comment with your guess of when Steph's baby will arrive. Note the day and time. (Include minutes and even seconds if you want.)
The five comments with the closest guesses will each win a Clipo Figure Bucket and a Tooth Tunes Junior.
We will announce the winner as soon as we can after Steph's baby is born.This contest is open to both Canadian and US shipping addresses.
Ready, Set, Guess…
UPDATE: It is Sunday evening, September 14. Steph is currently IN LABOR!!! 🙂
So – entries are officially closed. Once we get baby Ivy's official birth moment, we will try to sort through all the entries to find the five winners.
THANKS so much for playing everyone — this is so much fun.