This post may contain affiliate links. Read my disclosure policy here.
My 4-year-old daughter and 2-year-old son are SKINNY!!! I have problems keeping jeans up on both of them. Surprisingly, even the adjustable waist jeans don't solve the problem of their droopy drawers. Belts are helpful, but make it more difficult for my 4-year-old to use the bathroom.
Now that my daughter is getting older, I am really bothered when the sag in her jeans reveals skin and underwear. The poor thing, I am constantly telling her to pull up her pants.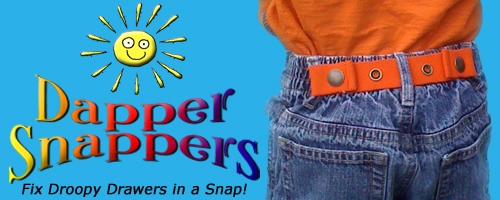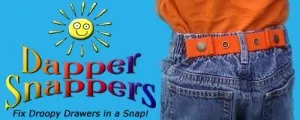 Thanks to another mom who had the same dilemma with her children, I now have a solution for my children's droopy drawers.
With two simple snaps, the Dapper Snapper tightens pants and shorts and keeps them in place. Since it is only placed on the backside, trips to the bathroom are a breeze. The pants easily slide off and on, without having to unsnap or remove the Dapper Snapper.
I tested this ingenious product on both of my children, even placing the Dapper Snapper on the pairs of adjustable jeans that weren't doing their jobs. The Dapper Snapper worked!!! Their jeans stayed-put, potty trips were easy breezy and I think that both children forgot that they even had it on. Out of sight, out of mind, right?
Dapper Snappers really are simple. But in case you are still a little stumped as to how they work, here is a short demonstration:

Dapper Snappers come in a variety of colors. They can be purchased individually or in packs of three.
Lucky for you, we have two 3-packs to give away. If you have been struggling with the toddler saggy jeans syndrome in your home, this is definitely the product for you.

To enter, please leave a comment below. Our two winners will be selected on September 13th.