This post may contain affiliate links. Read my disclosure policy here.
I don't have an actual review today, but boy do I have a giveaway that you are going to love! If you are hungry for reviews, I hope that you will check in with 5 Minutes for Books, the site, each day. We are building quite a community of booklovers there (or those looking to expand their reading habits), and we are so pleased with every comment, suggestion, and contribution that we get.
Hachette Book Group has offered five of you the following ten books from their collection. If you'd like to win, just leave a comment saying which book interests you most. If you are sending kids off to school at this time of year, now is the perfect time to indulge your hobby of reading. We have had fabulous weather this week as well, so I've enjoyed several hours sitting on the driveway reading while my son is playing or while I've waited for my daughter to get off the bus.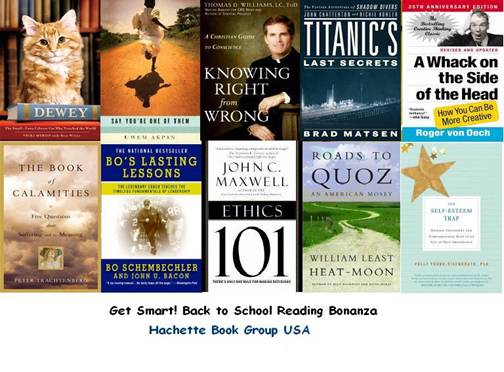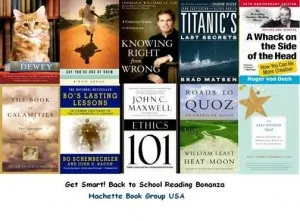 In this collection of books we have something for every taste.
1. Dewey: The Small-Town Library Cat Who Touched the World By Vicky Myron , Bret Witter
2. The Book of Calamities: Five Questions About Suffering and Its Meaning by Peter Trachtenberg
3. Say You're One of Them By Uwem Akpan
4. Bo's Lasting Lessons: The Legendary Coach Teaches the Timeless Fundamentals of Leadership by Bo Schembechler , John Bacon
5. Knowing Right from Wrong: A Christian Guide to Conscience by Fr. Thomas D. Williams
6. Titanic's Last Secrets:The Further Adventures of Shadow Divers John Chatterton and Richie Kohler by Brad Matsen $27.99 ISBN: 0446582050 Audio book, ebook also available
7. A Whack on the Side of the Head: How You Can Be More Creative by Roger von Oech (25th Anniversary) $16.99 ISBN: 0446404667
8. Ethics 101: What Every Leader Needs To Know by John Maxwell
9. The Self-Esteem Trap: Raising Confident and Compassionate Kids in an Age of Self-Importance by Polly Young-Eisendrath
10. Roads to Quoz: An American Mosey by William Least Heat-Moon
You might want to mark the Hachette Book Group contest and sweepstakes page to find out about their monthly contests. This giveaway is open to U.S. and Canadian addresses (no P.O. boxes please). I will draw 5 winners and post them in next week's column.
The winner of last week's book, Lilly Badilly, is #7 Doll Clothes Gal.