This post may contain affiliate links. Read my disclosure policy here.
If you love books, be sure to check out our 5 Minutes for Books. We have reviews for novels, children's books, babies' books, and informational non-fiction.
Here at 5 Minutes for Mom, we love to promote Mom entrepreneurs who create great products for or with their family in mind. When Debbie Glade contacted me to offer me a copy of The Travel Adventures of Lilly P. Badilly, I knew that I had to take a look at it.
Lilly Badilly is a millipede who lives in the Miami International Airport with her grandma and grandpa. One day Lilly tackles her fears and follow her adventurous Grandma Nellie's lead and hop a plane to Costa Rica. Once there she learns about the new country and is the hero who orchestrates an escape from Ruth Less spider's web.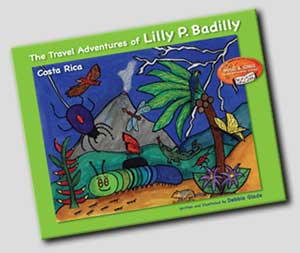 Debbie Glade wrote and illustrated the story, but then the whole family joined her in recording the CD that goes along with the book, bringing Lilly P. Badilly, the musical millipede, to life. Mrs. Glade recorded the voices, giving great variety to the various characters in an over-the-top cartoonish way, which is exactly what makes my four-year-old son Kyle love this book. (When I say "love," I mean that for two weeks it's been his top request for car listening, and he still laughs out loud when he listens to it.) Her fifteen-year-old daughter Rachel played the piano and sitar for the recording, and composed the music. Her husband John joined daughter Rachel in composing and played the harmonica and guitar for the CD recording.
The book is generally longer than Kyle would sit and listen to if I were reading it (62 pretty text-heavy pages), but because of the way that the story is told on the CD, complete with music, songs and sound-effects, he has followed along with the book over and over. The CD follows the story exactly, and page turns are indicated on the CD with a subtle page turning sound instead of a harsh "ding". I love this. The story stands on its own fine, but to me, the inclusion of the CD makes it well worth the purchase price, especially if you want to entertain and educate your four- to six-year-old. For older children who can read independently, the themes of music, travel, and bravely trying new experiences will stand out, as well as the interesting information that they will glean about Costa Rica.
Your children aged 5 – 10 might be interested in the travel adventure writing contest sponsored by the publisher Smart Poodle press, which they can enter through September 1.
You can support this creative family by buying your own copy at the Lilly Badilly website, and one of you (with a U.S. address) can win a copy right here. If you'd like to win, just leave a comment. We'll announce the winner in next week's column.
The winner of last week's book Slummy Mummy is #147 Alexia.

Congrats!