This post may contain affiliate links. Read my disclosure policy here.

Slummy Mummy by Fiona Nell was pitched to my review consideration as "Full of humor and feeling, SLUMMY MUMMY arrives on U.S. shores to delight everyone who took Bridget Jones to heart a decade ago and now has kids. Your readership will love it!"
Somehow I missed the "full of feeling" part, and as I read it, I thought that they had severely undersold this truthfully touching account of a mom who doesn't have it all together. She's the kind of mom who drops her kids off for school while she's still in her pajamas, whose children sleep in their clothes so that they aren't late for school as they rush through the morning, and who is always losing her credit card and her car keys. It is full of feeling. Some of the descriptions as she looked at her life made me stop and read them a second time.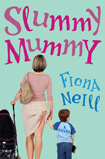 Yes, it's funny. Yes, she gets into scrapes that you wonder how she's going to escape with her dignity, but Lucy Sweeney is so much more than a lovable buffoon. Keeping the Bridget Jones comparison in mind, I was glad that it was missing the excessive profanity (although there is some) that was found in that movie and novel.
"Really she's nothing like Bridget Jones," I thought. "She's a real person. Yes, a bit comical, but she gets what it's really like to be a wife and a mom. To try your best, and yet still feel as if you are failing. . . to be tempted by the differently exciting lives of others."
Once I had finished the book, laughing, crying a bit, and thinking a lot, it hit me — hard. When I read or watched Bridget Jones it was as a married woman. I did see her as a bit of a comical buffoon, but I was not single. I think that a single woman struggling to find love probably viewed Jones in the same way that many moms today will view Sweeney — an over-the-top version of yourself or someone you know, who in spite of being a bit of a comical figure has the same deep thoughts and feelings that you do.
There is plenty of real life in this novel — real gritty life that some people might not want to read about — marital infidelity, some talk of drugs, drinking, etc — but it's also real in that she completely "gets" what it's like to be a full-time mom, competing with other moms, looking for friendship, hoping not to lose yourself.
It's probably not for everyone, but if you like a little humor mixed in with some hard choices and a glimpse into a life like your own, yet not, you might enjoy Slummy Mummy.
If you'd like to win a copy, leave a comment here. We'll announce the winner in next week's column.
The winner of last week's book The Motherhood Manual and gift package including a tiara is #71 Rebecca Doherty.