This post may contain affiliate links. Read my disclosure policy here.
It can be intimidating…
And very, very, lonely walking into a crowd of people who are laughing, hugging, and tweeting it all. Their clique looks so closed you are sure that they have been sitting together for lunch since kindergarten.
It can make you want to throw darts into the eyes of those fellow bloggers who insisted you just HAD to attend a blogging conference!
BUT, no worries. We have all been there — we have all had those moments of insecurities when we clutched our smart phones, hunched over with "intense concentration," just to save us from approaching a group of strangers, strangers who apparently all know each other!
So, instead of leaving you all alone with your iPhone, I am going to share with you some tips to make sure you have a BLAST at your next blogging conference!
Because honestly, I adore conferences! I simply cannot NOT have fun! It is impossible. I have a GREAT time and make fabulous friendships with incredible, inspiring people.
Sure, I may have some lonely moments, or feelings of inadequacy when I listen to accomplished speakers and think I can't measure up.
But, the trick is I don't stay there! I move forward. I focus on positives and believe in the BEST about people, not assume the worst.
5 Tips to Make Sure You have a Blast at Your Next Conference!
1. Tweet in that stream!
When Susan and I first stepped into the lobby of BlogHer '08, I had a rush of panic. We had a ton of mom blogging friends online, but walking into the throngs of female bloggers from all different genres, I instantly felt very small and isolated.
Because Susan and I had both been very pregnant during BlogHer '07, we had skipped that year and 2008 was our first time attending. I didn't anticipate the number of faces I wouldn't recognize!
But now with Twitter, conference attendees have a way to get meeting people BEFORE they step into that lobby!
The beauty of Twitter is you don't have to be invited to join the group — you just join in!
You can follow the conference hashtag and start interacting and forming friendships long before your taxi pulls up to the hotel. (In fact, if you are tweeting, you will probably be sharing that taxi with your fellow tweeps!)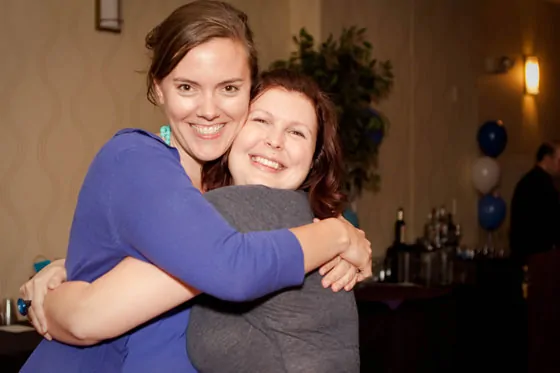 So, follow and tweet! You are one Twitter conversation away from a blogging bestie!
2. Share a room
You may not want to share a bathroom or wear earplugs to block out any unwanted snores, but sharing a room can be a brilliant plan for conference attendees.
Not only are you splitting the bill, but by rooming with another blogger, or two or three, you have instantly formed a group of friends that will share your experiences and keep you from hiding in your room alone, devouring all the swag bag cookies at 9pm.
Your roommate may not become a kindred spirit or your new blogging partner, but having that person "in your corner" can make the conference halls seem a lot less intimidating.
3. Find your kind
I remember when Mom Blogging WAS a genre!!! Yes — Susan and I are that old!
Nowadays, most conferences have ways to ensure you can find fellow members of your "tribe." You can reach out and find bloggers in your genre, who share your interests, and who can be valuable networking contacts.
Or, if you are like Susan and me, and you defy being tied to one genre, you can focus on finding "your kind" of people — the kind of people that make you feel at home and good about yourself, the kind of people that make you SO glad you found a crazy thing called blogging!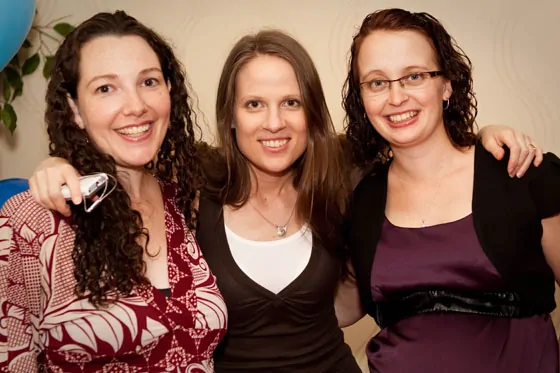 And when you do find them, enjoy them. Don't be in too much of a rush to get out there and move on to the next business card and the next conversation. Get to know them. Build relationships — meaningful friendships that will keep growing, even after your plane takes you back home to dirty dishes and unwritten posts.
4. Open up
I am an open book. Really, it can be a problem! lol
But, the ability to open up and share with people who you really are is what allows relationships to deepen and what takes a hundred hand shakes over a weekend and turns a handful into trusted friendships.
Sure, it can be risky. And you need to be careful — not everyone can or should be your confidante. And there are appropriate levels of sharing!
But, if you can have an attitude of openness, of being your true self and shedding the facade, people will be drawn into your honesty and vulnerability. People don't want fake. People want real.
5. Take a nap!
Conferences are exhausting. Remember how exhausted you were after giving birth??? Yes — that kind of tiring! Ok, maybe not THAT exhausting, but you get the idea.
Conferences are emotionally, physically, and intellectually taxing! You are pushing yourself to grow, learn, network — and there isn't much time for sleep.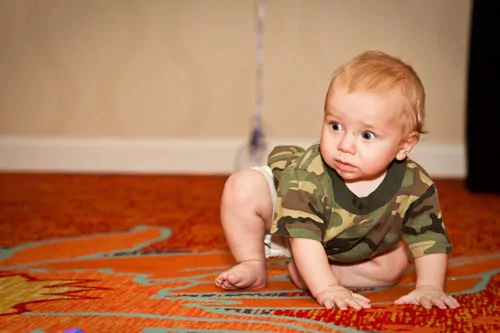 So, if you need to take a break, do it! Steal an hour or two for yourself. Slip in your earplugs and sleep. Like a baby. Cause there is a ton of fun and learning still to be had!
And Remember…
None of us is perfect. People will make mistakes. Sometimes people will hurt you, without even knowing it or intending to.
Conferences can be intense. Heck, life is intense!
So when someone disappoints you, offer them grace. You don't know what the whole story is. Perception can be so far from reality.
When we allow people to be broken, just as we allow ourselves to be broken, it gives us ALL a chance to have a much more enjoyable life — and a TON more fun!
P.S. Tell me — have you been to a blogging conference? What was your experience like?
P.P.S. If you see me at a conference, please say HI!!! I can't wait to meet you!
Written by Janice, co-founder of the Mom Blog, 5 Minutes for Mom
We love to chat with you! Tweet with us @5minutesformom and find us on Facebook/5minutesformom.