This post may contain affiliate links. Read my disclosure policy here.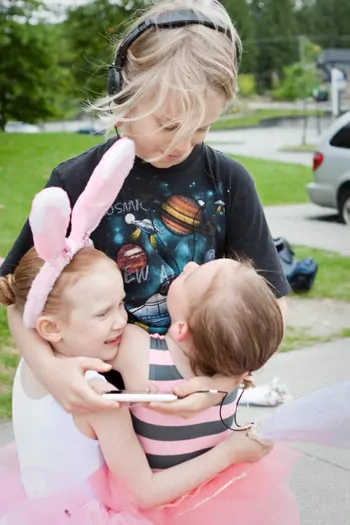 My three year old Olivia and her six year old cousin Julia had just finished their ballet recital and I was the proud mama trying to take some shots of the excited girls and their "oh so cool" Jackson, my nine year old son. (That "oh so cool" nine year old boy had actually kept whispering to me throughout the performance, "Oh my goodness — that is just the cutest thing ever!" So don't be fooled by his "cool" act!)
When I caught this moment of the girls hugging Jackson and the look of love between Jackson and Olivia, I was overwhelmed.
It may look like just a sweet shot of a hug, but, to me, this image tells me almost the whole story — about all the years of waiting and praying by a litte boy, begging for a sibling, about the final arrival of a baby sister, about the adoration of brother and sister, and about the profound gift my son has to love so deeply.
The love my two children share is the most precious thing to me. Sure they may bicker and jockey for attention some times. They are siblings of course! But, the connection they have to each other, and the love and gentleness Jackson has for her and for his two precious cousins, Julia and Sophia, is remarkable. His tender heart adores them.
When I checked my image after I shot it, I was worried. I was in manual and had quickly shot their impulsive hug, so I hadn't had a chance to adjust my settings and the light had just changed. It was a bit overexposed. But when I uploaded it to Lightroom, it wasn't off as much as I had feared, and because I had shot it in RAW, I was able to "bring it back."
It isn't a perfect image — just a snapshot of a moment captured. But capturing that moment of joy is all that matters to me.
I'd like to hear about your moment of joy! Share your story and upload a photo (optional), and in return Shutterfly will gift you $5 off your next photo book to commemorate life's joyous moments, and you"ll be entered for a chance to win a $200 Shutterfly Gift card.
This is a sponsored conversation written by me on behalf of Shutterfly. The opinions and text are all mine. Offer valid for $5 off one photo book order and valid for one-time redemption per member. Taxes, shipping and handling will apply. BlogFrog hosted gift card contest live from June 17th to July 14th. A winner will be randomly chosen and announced on July 18th. All participants remain the copyright holder of their photos.
Please note: We have turned off comments here on this post. Please share your comments in the BlogFrog widget above.