This post may contain affiliate links. Read my disclosure policy here.
Bullying. Whether your kid is the bully or the one being bullied, it's likely that at some point over your child's life, you will deal with this issue, and probably more than once. It's hard. When we know about it, it's hard as a parent not to jump in and defend our baby! But what if they don't tell us? They might not. That's why it's great to prepare them ahead of time with ways that they can respond.
Author Jackie Humans knows exactly what it's like to deal with bullying. Her daughter has Asperger Syndrome, and so helping kids empower themselves has become her life's mission.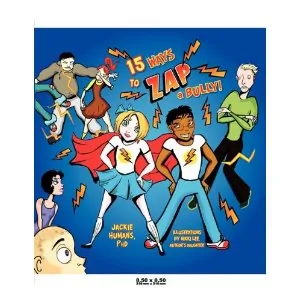 15 Ways to ZAP a Bully! empowers children (and their parents) with:
Easy ways to shift the power from the bully to the target
Snappy comebacks, 'magic' words and phrases are the best way to take the wind out of the bully's sails
One word responses work best for young or verbally challenged children
Parents should role-play bully zapping strategies with their children by taking on the role of the target and letting their kids teach them what they're doing wrong
Targets can enhance their credibility by keeping a journal of the 5 W's: Who did it, What happened, When, Where, and the most important W – Witness!

Though 15 Ways to ZAP a Bully! is formatted like a paperback picture book, complete with comic-style full-page drawings, I wouldn't share this book with a young child. Most of these tips are probably more appropriate for an older child (10 or 11 and up). I can't imagine "equipping" my 7-year-old son who is probably already a little too quick with his emotions and responses to deal with bullying in this way.
However, as a parent, it's great to be ready, and the ideas behind why kids bully one another (they want attention, they're just mean etc) are ones you could share with your child no matter their age.
One thing this book does is raise awareness of the issues. In most schools bullying is supposed to be a no-tolerance issue, and it's a subject that is usually covered, so reinforcing it at home will only make your child feel more comfortable talking about it with you or with a teacher if necessary.
I'm glad I looked at this short, easy-to-digest book that will help me with coaching my kids as they deal with other kids throughout their school years.
If you would like to win a copy of this book, leave a comment here. We'll announce the winner on July 11.
Original post by Jennifer Donovan, 5 Minutes for Books managing editor