This post may contain affiliate links. Read my disclosure policy here.
My son, Jackson is a huge fan of the Diary of a Wimpy Kid books, and he has loved both movies. Jackson and I are so excited that DIARY OF A WIMPY KID: RODRICK RULES is available on Blu-ray and DVD today.
Summary of Diary of a Wimpy Kid: Rodrick Rules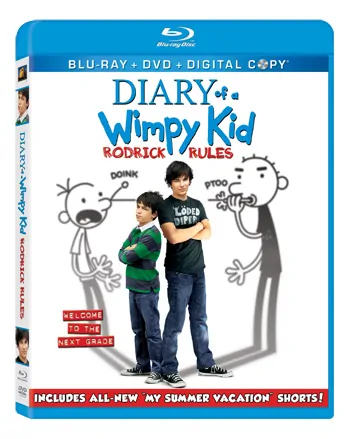 Greg Heffley is about to discover that there is something worse than middle school – his own family!
Based on the 2011 Nickelodeon Kids' Choice™ Award for Best Book Series, the original film cast returns in DIARY OF A WIMPY KID: RODRICK RULES, available on Blu-ray and DVD on June 21, 2011. This flick takes sibling rivalry to entirely new levels as big brother and little brother wrestle through growing pains.
Just back from summer vacation, Greg Heffley and his friend Rowley enter the next grade as undersized weaklings in their school. A bully favorite, Greg tries not to get noticed by anyone except the pretty new girl, Holly Hills. And at home, Greg is still at war with his older brother, Rodrick, until their mom Susan instigates a 'Mom Bucks' program so Greg and Rodrick can earn play money by doing chores and—gasp!—being nice to each other.
Calamity ensues when their parents return from vacation and dad Frank finds evidence that Rodrick secretly threw a houseparty with his band, Löded Diper. As they struggle with school and compete for 'Mom Bucks,' the brothers discover that avoiding trouble is easier if they unite—and their once-twisted partnership grows into a hilariously playful and sometimes mischievous friendship.
We're giving away 5 copies of DIARY OF A WIMPY KID: RODRICK RULES on Twitter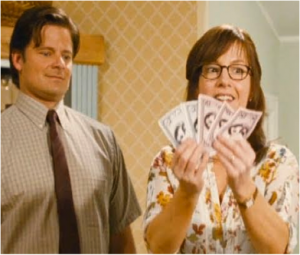 In the movie, Greg and Rodrick's mom, Susan, uses Mom Bucks to inspire her boys to get their chores done.
We want to hear how your kids can earn mom bucks while at home during summer vacation.

Using hashtag #MomBuck tell us on Twitter how your kids might earn Mom Bucks this Summer.

Let us know how YOU inspire your kids to do their work. (Remember – Mom Bucks are a good deed coupon that is given out in the film if the kids have helped with chores, etc).

So we can find your tweets, please include our twitter handle, @5minutesformom in your tweet.

We will pick 5 of the #MomBuck tips to win copies of the DVD.
Please note: We welcome your tips and comments on this post, but only tweets using the hashtag #MomBuck will be eligible to win a DIARY OF A WIMPY KID: RODRICK RULES DVD. This contest will end on June 30. You can tweet as many tips as you'd like using the hashtag #MomBucks.
We received a copy of DIARY OF A WIMPY KID: RODRICK RULES to review but as always the thoughts and opinions expressed in this post are our own.
Some free extras:
Play the Diary of a Wimpy Kid 'Party Pooper' game
Download the Diary of a Wimpy Kid iPad game
Follow Fox Home Entertainment on Twitter – @FoxHomeEnt