This post may contain affiliate links. Read my disclosure policy here.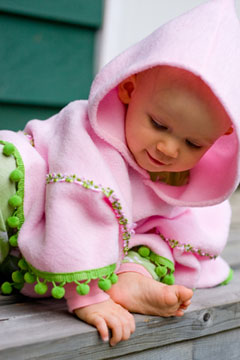 From their adorable name to the angelic photos on their website, Skipping Hippos had me enchanted from my first visit. So I was more than happy to see one of their adorable ponchos in person.
My only problem was trying to choose which colorful combinations of fleece and trim I liked best. They are all so fun.
I settled on the Adeline design, because as you might know, I am all about pink. (I loathed pink as a child. Susan and I were tomboys. So I am making up for it now!)
Olivia looks adorable in it, don't you think? It is soft, warm and cozy too. It will be great for the fall evenings that will be sneaking up on us soon.
Skipping Hippos is owned and run by entrepreneur mom Jolie Fay, who was inspired to start her business when stranger after stranger stopped her in the streets, inquiring about the poncho she had made for her daughter.
Skipping Hippos also carries summer ponchos and pool ponchos.
The lightweight summer ponchos are a great option to keep little ones comfortable and covered in warmer weather. And the terrycloth pool ponchos are perfect for getting warm and dry at the pool or the beach.
Olivia tends to pull off her sun hats, so having a poncho is a wonderful way to keep her hidden from the sun. Here is Olivia keeping cool at camp this past July. I love how wearing blue brings out the blue in her eyes.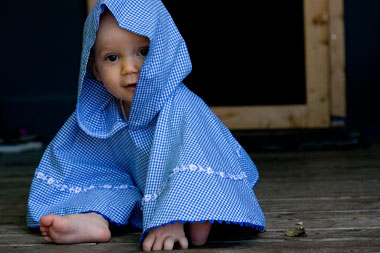 If you want to cover up your little one in a Skipping Hippos Poncho, leave a comment here. Jolie is providing two ponchos. The winners will have their choice in color and style.
We will announce the winners August 30th. This contest is open to both US and Canadian shipping addresses.