This post may contain affiliate links. Read my disclosure policy here.
I tried to keep them away from him — those granola and cereal bars that seemed like first cousins to candy bars.
I tried to take the snack-food high road. But peer pressure drove us to them. Every day I would have to hear about how all his friends got them in their school snacks.
Eventually, I let him buy one box as a treat. And now, if you look in my cupboard most days of the month, you will find those sweet, chocolate chip infused bars. (I can't blame him for wanting them — they are good! And in my defense, they are really convenient and when I read the label – they are made with whole grain oats and don't have any trans fat or cholesterol either – they are a better alternative to a chocolate chip cookie!)
Yet, I always lament how little protein they put in them. I mean really, if you can make high protein energy bars for adults, why not throw some protein in the stuff for kids?!? My son needs protein — not sugar!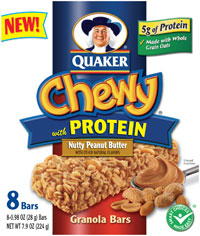 So, when Quaker wrote us to tell us that their Chewy Granola Bars now come with 5 grams of protein, I got excited. Thank you Quaker — we needed some more protein in those things!!!
Now, you might judge me for not only feeding my son packaged snack foods, but openly writing about it. But ladies, I have to tell the truth. I don't have time to bake. I would love to say that I make my own granola and form it into bars before my children wake up in the morning. But it is not going to happen in this house.
So, I do feed my son Quaker Chewy Granola Bars on a regular basis. I also feed him more raw vegetables in a day than most rabbits consume. I feed my family very healthily. And I recognize that a child's diet needs to be balanced – and fun! A child cannot live on vegetables alone! 😉
(Quaker's website is actually quite helpful with great tips for packing healthy lunches and teaching your kids how to make good food choices. I got some good ideas from it.)
The two flavors they just announced – Nutty Peanut Butter and Peanut Butter & Chocolate – both won't be allowed at our peanut-free school, which is disappointing. But I suppose that extra protein in the bars comes from the peanuts.
I know in my morning rush, on days when Jackson is late crawling out of bed and I have to throw him in the car without breakfast, these little protein packed treats and a thermos of milk will be a great way to get a quick – and very yummy – shot of protein into a six year old boy on his way to a long day of first grade. But don't worry – I will make sure he eats his banana too. 🙂
To join in the Back to School Giveaway fun, Quaker is offering two of you a sports bag filled with some fun – but practical – items for activity-filled family days (soccer ball, tennis balls, sports socks, fun shoelaces, water bottles, etc.), along with a few boxes of Quaker Chewy Granola Bars with Protein.
To win, leave a comment below and (and be sure you've followed the Back to School Giveaway guidelines). This giveaway is open to U.S. and Canadian addresses.
Good Luck!