This post may contain affiliate links. Read my disclosure policy here.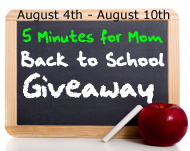 With the turn of the page to August, our minds automatically think, "Back to School." Whether your children start school this month or in September (or you keep your own homeschool calendar), there are preparations to be made–buying pencils and backpacks, new shoes and clothes, and getting organized.
5 Minutes for Mom wants to help make things easier. This week we will offer product reviews and giveaways to make your back-to-school season easier. And what about those preschoolers left at home when the big kids go back to school? We'll have something for them as well.
The Back-to-School Giveaway Event will take place right here from August 4 – 10. We'll leave all the posts open through August 12, and then post the winners on August 13.
Here's how to get involved in the giveaway:
Add a comment on the giveaway you want to enter. PLEASE note: You need to enter each giveaway individually so we know who wants to be entered in what giveaway. So make sure you click over to each giveaway and leave your comment there.
Either link back to this post and include a "Back-to-School Giveaway" button in that post or on your sidebar (to get the code scroll to the bottom of this post,) or link to the individual giveaways you choose to enter. (If you post and include the button, either in your post or on your sidebar, and link back here, you are good for all the giveaways. No more linking required.)
As always, non bloggers are welcome to participate! We understand you can't link – but please spread the word to your friends.
Some giveaways may be open to Canadian shipping addresses. Please check individual giveaways.
Back-to-School 2008 Giveaway
Click over and comment on each giveaway that you want to enter.
PLEASE REMEMBER: You need to click over and comment on each giveaway you want to enter. All giveaways will be open for entries through August 12. We will CLOSE the comments on THIS post so that people do not get confused and comment here to win the prizes. Head over to each giveaway you are interested in and comment at THOSE posts.

Here is the button code if you'd like to include it on your blog: