This post may contain affiliate links. Read my disclosure policy here.
Last week I was sick. It was one of those things that came out of nowhere. One day I was fine, but the next day I woke up with my nose dripping like a faucet and major sinus pressure. Fortunately, the day before I had just received a copy of Comfort Food by Kate Jacobs. Feeling rotten was as good an excuse as any I could think of to devote some time to dig into this book. I spent most of the morning curled up on the couch with my book while Kyle watched TV. I can't think of a better remedy. The only problem with my self-prescribed cure occurred two days into this weeklong affliction when my eyes were too itchy to read.
I was familiar with Kate Jacobs' first novel The Friday Night Knitting Club. I had certainly heard about the blockbuster best-seller that Julia Roberts has signed on to produce and star in, but I hadn't read it (after enjoying Comfort Food so much, it's definitely on my to be read list). Knowing that Comfort Food offers a peek into the life of fictional celebrity cooking host Augusta "Gus" Simpson, I was immediately drawn to it. A book–about food and the life of a foodie?–for a bookworm like me who reads cookbooks like novels and also indulges in reality food TV programming, this was an irresistible combination.
The novel lived up to my expectations. I was quickly drawn into Gus's life. The book opens with her contemplating her favorite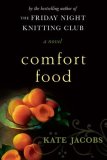 comfort food–birthday cake–as she's about to turn 50. Gus was featured on the Cooking Channel due to the success of the small luncheonette that she opened after her husband died suddenly, leaving her with two young children to support. She immediately achieved success and stardom being the hostess that everyone wanted to be, but it came at the expense of her relationship with her daughters. Now they are adults dealing with their own problems, and perfect Gus suddenly has some problems of her own. When the Cooking Channel begins to falter, the one thing that Gus has been good at–her career–is in jeopardy. When she is forced to team up with a hot young chef, Carmen Vega, to see if they can create a successful new show, sparks fly–between siblings, mother and daughters, members of the opposite sex, and jealous co-stars.
Kate Jacobs describes the characters this way. "They have to tackle what's on their already-full plates and learn to accept the different flavors in each bite of life: Some are bitter, some are sweet, and some are a combination. Together, all the different flavors make up a perfect meal."
I could apply the same recipe to Comfort Food : The eclectic cast in this delicious novel comes together after a quick pan-searing. The flavors meld, with nothing too spicy (language or adult situations), and a plot that lingers long after your first bite. After indulging the reader will be left satisfied, yet hungry for more.
Check out Kate Jacobs' website for more info on Comfort Food, including a reading guide and an excerpt. She also has created a site for the fictional Cooking Channel, complete with recipes.
Would you like to win one of 5 copies of this novel? Share your recipe for success when you need comfort. Is it a favorite food or beverage? Perhaps an activity? I think that for me it's gotta be books.
The winners of last week's book, Roadmap to Holland, are

#134 Michelle Rosborough
#69 Sara Alvaro
#138 Kathy Pease