This post may contain affiliate links. Read my disclosure policy here.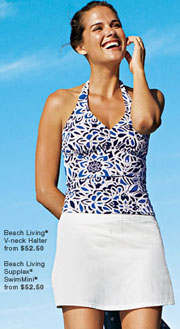 Summer is unofficially here.
But if the thought of dragging out your old swimsuit makes you long for wool sweaters and winter coats, then we have a contest for you — a $100 gift card to get yourself suited up in one of Lands' End fabulous swimsuits.

Last year, we also ran a Lands' End swimsuit giveaway, but I didn't get a chance to try out a suit myself. They looked so fantastic and you all raved in the comment section about what great suits Lands' End makes, but I had never worn one.
This time, Lands' End let Susan and I try out suits as well as offering up a gift card as a giveaway. Thanks Land's End!
To get the full Lands' End swimsuit shopping experience, I measured myself and used their sizing charts, I used the virtual model feature AND I phoned the help line.
And am I impressed!
Shopping for swimsuits is not easy in person, let alone doing it online! I was a bit overwhelmed at the thought of it actually.
But Lands' End has set up an INCREDIBLE shopping experience. The variety of sizes, styles and coverage options, along with the sizing chart, makes it possible to find an appropriate suit that actually fits. And the virtual model feature helped me picture my body type in the different suit styles.
The best part of the shopping experience came when I phoned Lands' End to ask them some questions about what size I should choose, what colors would go best together, etc.
The customer service women who helped me were incredible! Yes, I said women plural! Mary, Karla, Susan and Mary Ann, to be exact.
Why so many? Well – I had a lot of questions!
When I first spoke to Karla, she was so intent on helping me choose the best suit for my body type that she even went to ask her coworker Mary's opinion. Both of these ladies were so fun and fabulous, I couldn't have asked for better shopping mates!
Later, I had a couple other questions and when I called back (yes, I called two more times!) I got some more fantastic service from Susan and Mary Ann. These ladies were patient, well informed and most importantly fun! I mean come on – this is shopping ladies. It should be fun!
When the suits arrived, I could see why you all raved about Lands' End bathing suits. They are made of such high quality fabric and crafted so well. Just beautiful.
So if you are in need of a new suit – or you just want a new suit – head over to Lands' End and have FUN shopping for summer.

But first, leave a comment here for your chance to win a $100 gift card to Lands' End. With one hundred dollars to spend, I bet you will really have fun shopping! And if you talk to Mary, Karla, Susan or Mary Ann, tell them I said "Hi!"

This contest is only open to US shipping addresses. We will announce the winner June 30th.