This post may contain affiliate links. Read my disclosure policy here.
I'm so sorry…
I've been meaning to tell you about the fabulous Twitter application that I've been using for the last few months… It's called MarketMeSuite.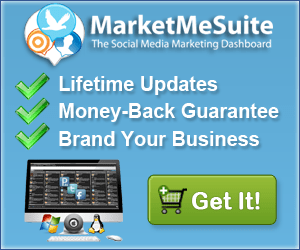 The reason I'm feeling guilty right now is that they are CLOSING their LIFETIME license forever THIS FRIDAY at 3 pm UK time – I think that is 10 am Eastern in North America.
And I've been planning to write up an awesome review and tell you how to use all the great stuff in their application, but I've been so busy and didn't get it done.
So now, right while you're busy preparing your Ultimate Blog Party 2011 post, I'm interrupting you with this alarm sounding that a very, very cool Twitter application that you're going to want and could have endless updates forever will be ending their amazing lifetime option.
It's no wonder they are closing the lifetime option, it's way too good of a deal. LOL
How You Can Get One…
We've sweet-talked the folks over at MarketMeSuite to give us 20 Lifetime Licenses to hand out as prizes for the Ultimate Blog Party 2011. We'll give 15 away on Twitter and 5 through our Prize Page random draw at the end of the party.
So, if I were you… after I stopped cursing those girls at 5 Minutes for Mom for not giving me more warning, I'd grab a lifetime license now before it's too late. Then, if you win one of the 20 we're handing out, just let us know and the MarketMeSuite folks will refund your payment.
Here's a video to show you why you'll want MarketMeSuite…
Here's what you should do right now…
Click over now and secure your lifetime MarketMeSuite license
Watch the #UBP11 Twitter stream for announcements on how to win one of the 15 licenses we're handing out on Twitter
Join the Ultimate Blog Party and have 5 more chances to win through the UBP prize draw.
Most importantly… Please forgive me for giving you so little notice.
Disclosure: I am an affiliate for MarketMeSuite (and you totally should be too, btw.) They provided me a sample copy of the program that I've been using for the last few months and are also donating 20 lifetime licenses for UBP prizes.