This post may contain affiliate links. Read my disclosure policy here.
I have been through my share of bibs. Plastic, vinyl, terry cloth, and more. Some were stiff, bulky and uncomfortable, others too small and flimsy. Some tied up, some snapped and others used velcro. Some were good. But not one was perfect.
And then a brilliant mom, sent me her creation – DaBib – and my world of bibs changed forever. It is like a bib enlightenment! I will never look at bibs the same. I am in love with DaBib.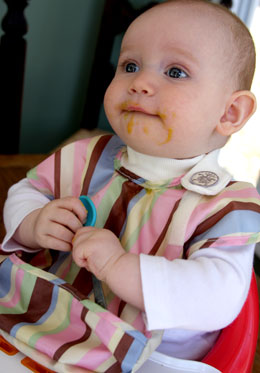 And how could I not be? What is not to love?
DaBib made a fabulous first impression on me with hip, beautiful fabric that is soft and lightweight. Immediately I knew that this would be the cutest and most comfortable bib Olivia would ever use.
And when I slipped DaBib on her and velcroed the oh-so-cozy-and-oh-so-brilliant ribbed scrunch collar around her neck, I moved from infatuation into fully committed love.
The scrunch collar is one of those things that makes you say, "Now, why didn't I think of that?!?" It makes complete sense. Not only is the ribbed collar soft and cozy against baby's skin, but it keeps all the mess from seeping under the neckline and onto baby's clothes. It is genius!
But DaBib doesn't stop there!
The hourglass design provides great coverage that extends right over baby's shoulders. And the fold over crumb catcher catches crumbs and drips.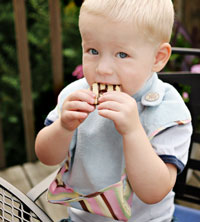 The waterproof polyester fabric on the Giggles style (pictured above on Olivia) wipes off easily and is perfect for even the messiest of meals.
The Hugs style, (pictured on the left) with the micro-fiber terry front, is super absorbent to catch dribbles and drips from bottles and sippy cups, with a waterproof back so no liquid soaks through.
My friend Crystal saw Olivia wearing her DaBib and was equally impressed, "Dude – I would have killed for a bib like that when my kids were little!"
Seriously ladies – these bibs are exciting! And we are not the only ones taking notice. DaBib is getting great reviews and is going to be sold in 160 BabiesRUs stores in the US in August, with distribution in Canada sure to follow!
Features of DaBib
Scrunch collar (patent pending) keeps liquids from getting under the bib, reducing stains and frequent changing
Food pouch catches crumbs and drips – hidden on the back of the bib when not in use
Uni-collar attaches in front, easy to put on and take off
Extra large hour glass shape protects infants through toddlers
Made of environmentally friendly materials, non-toxic, completely lead-free

If you want to win a DaBib, just leave a comment here to enter. We will have five winners and each winner will have their choice of DaBib style.
We will announce the winners June 19th. This contest is open to both US and Canadian shipping addresses.
But don't wait to win — DaBibs are affordable at $12.99 and you get free shipping on orders of 3 or more bibs (first-class shipping, continental US only.) NO coupon is required, the shipping will automatically be deducted once you put at least 3 bibs into your order.

UPDATE: Shea, the creator of DaBib, is so thrilled with all your comments she has added a special coupon – 10% off your entire order, coupon code MOM2008. This discount expires June 30. Customers in the continental US will still get the free standard shipping in addition to the 10% off, on orders of 3 or more bibs!